Very much a Thursday night institution, Back to the Phuture travels through time joining the musical dots of the past, present and phuture in their own immaculate style. As ever, the line-up is second to none featuring previously announced long time Bestival cohorts Hot Chip, the governor of all things synth Gary Numan, the super-hotly tipped Alabama Shakes, electronic music pioneer and inspiration to a generation John Foxx and the Maths and electro rockers Killaflaw. There will also be floor smashing DJ sets from The 2 Bears, acid legend Adamski and Back to the Phuture's own Mark Jones.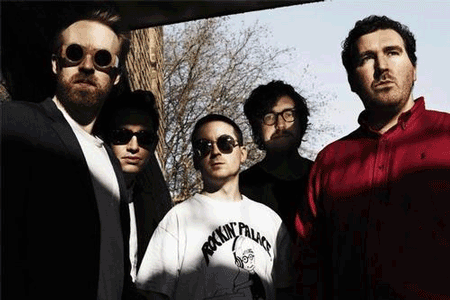 Says Back to the Phuture mainman Mark Jones: "It's great to be back at Bestival for a third year with Back to the Phuture and a truly amazing line up of inspiring artists. Tomorrow is Today………Today is Tomorrow….. Bring the Noize!"
Also adding their not inconsiderable talents to our jam-packed bill of live musical cheer are the stunningly soulful Jesse Ware, self-described 'motivational speaker with harmonious intentions' Willis Earl Beal, rap-punk-ravers Murkage, super-distinctive microphone champion Skepta, singer song-writer and soon-to-be superstar Jake Bugg, spine-tingling harmonisers Staves, duelling boy-girl vocalists Sunless 97, Brit-electro types The Other Tribe, Mancunians Parma Violets, Eastern European folk flavoured South Londoners Georgeous George, folk-punk four-piece Crowns, live freestyle breaks dons Subgiant and shoestring-popsters Daytona Lights. Plus there will be appearances from Charley Macaulay, Alonestar and the Isle of Wight's very own A Way Of Life and This Way Up.
Everyone in the Bestival Bunker is well excited about Parisian genius Brodinski coming to Bestival. A man after our own hearts Brodinski's taste is as wide as our smiles when we're reaching for the lasers at one of his gigs, covering filthy techno, bass heavy house and minimal vibes. You know you have to be there when he raises the roof! Anyone who knows their onions when it comes to dance music will know that Gilles Peterson is an utter legend on a quest to find the perfect beat and we're jolly pleased that he's taking his search to the Isle of Wight to exhibit his impeccable taste for all you lucky Bestivalites. And that's not all, as Redlight will be navigating the space between house, bass music and beyond, smashing it up with his jet-propelled bangers, jungle pioneer Shy FX will be there in full effect, plus there will be deck wrecking action from Dalston doyens Gutterslut, glitchy Dubstepper Zomboy, cut and scratch monster Krafty Kuts, edit-genius Duff Disco, bhangra chief Sonnyji Presents Bang Bhang, cosmic disco dude Flying White Dots, and local boy done goodKaf-Tan.
We're also delighted to announce that Bestival will be teaming up with Exit Festival to take part in the Association of Independent Festivals (AIF) Twin Festivals initiative. Deriving from the popular 'twin towns' concept the scheme aims to create a cultural exchange between the UKs leading independent festivals and their international counterparts and both festivals have plenty of ideas up their sleeves to benefit both artists and festivalgoers from Serbia and the Isle of Wight this summer.
Says Rob da Bank: "I'm so pleased that we're twinning with Exit – my one visit there has stayed lodged in my festival brain as one of my favourite memories…playing records in an old fort to the most hedonistic party people this side of …well Bestival! So much energy, good vibes and great acts playing – hopefully something that we share with Exit at Bestival. Long may we be brothers and sisters in sound!"
Says EXIT General Manager Bojan Boskovic: "We are so excited to be twinning with Bestival this year as we have watched it bloom from a wonderful ethos into one of the largest and most musically exciting festivals around! Bestival has a great energy, an immense and interesting line up and who can compete with the unique ideas and artwork each year. Exchanging acts and ideas, we also hope some of our followers will make the journey to Bestival and we look forward to welcoming Bestival fans to our crazy fortress".
To benefit local artists each festival has put forward acts to swap and play at each others events. The Playground Syndicate will play at EXIT and The Good Guys will play at Bestival. Each act will also blog about their experience playing at the twinned festival.
Hailing for the Isle of Wight, The Playground Syndicate are made up of 2 DJ's (Elmo & Beavz) and the visual brilliance of the A.V Circus. These boys are seriously talented individuals and when they come together they are a mega force, twisting your mind with warped visuals, DJing with huge creative energy and reinventing the tunes they play within the mix.
DJ duo The Good Guys aka Bojan Cizmic and Andrija Kovac play a mixture of electronic folk, guitars and samplers with no boundaries and are rising stars in the Serbian underground electronic music scene. With over 30 productions under their belt covering a range of styles from folk trash to nu rave the pair have broken out of their native Eastern Europe and are now playing gigs all over the world.
Twinned festivals will be sharing not only artists and expertise but also audiences, as 10 lucky competition winners will be given the chance to experience the twin festival in action. And one lucky winner from each festival will also get the chance to win a trip to the twin festival with travel and accommodation for them and a mate. Announcements will follow on both festival websites in the coming months with more information and how to enter.
Now in its third year the AIF scheme has gone from strength to strength with participating festivals successfully building local awareness of their twins through cross press and marketing promotions. As well as sharing links on their websites, twinned festivals also include twinning information on flyers, marketing materials and in their PR campaigns to local media and once their own event has sold out help to market their international twin through their media channels. Talent discussions have helped to co-ordinate bookings of international artists and further reinforce the fundamental values that unite the festivals.
Taking place from Thursday 12th – Sunday 15th July, in the magical Petrovaradin Fortress overlooking the river Danube, EXIT continues to deliver the most adventurous and value for money festival experience, with a diverse and cutting edge line up, cheap food and drink onsite and the best campsite entertainment whilst bathing in the hot Balkan sunshine. Tickets are onsale now from only £95 for a 4 day festival pass. For more info and tickets http://eng.exitfest.org/
Sadly we have just heard that Azealia Banks is cancelling all of her summer shows in the UK and that includes Bestival but we have just confirmed an AMAZING new act to announce which we will tell you all about early next week and we still have our Friday night headliner under wraps, news of which will be coming soon, so keep on checking in at www.bestival.net, and our Facebook page and Twitter for all the latest behaviour.
All The Acts Announced So far:
LIVE
STEVIE WONDER / NEW ORDER / THE XX / SIGUR RÓS / FRIENDLY FIRES / 2MANYDJS – LIVE / SOULWAX /JUSTICE / TWO DOOR CINEMA CLUB / HOT CHIP / BAT FOR LASHES / NERO / EMELI SANDÉ / ORBITAL / SBTRKT / WARPAINT / DE LA SOUL / ROOTS MANUVA / MAJOR LAZER / SISTER SLEDGE / GARY NUMAN / THE HORRORS / SPIRITUALIZED / DEATH IN VEGAS / DOOM / BEN HOWARD / MICHAEL KIWANUKA / SUB FOCUS / ALABAMA SHAKES /KEVIN SAUNDERSON FEAT. INNER CITY LIVE / GALLOWS / RIZZLE KICKS / BURAKA SOM SISTEMA / SAGE FRANCIS / GRIMES / BELLOWHEAD / EARTH WIND & FIRE EXPERIENCE FEAT AL MCKAY / DJANGO DJANGO / LITTLE DRAGON / GOLD PANDA / ADAM ANT & THE GOOD, THE MAD AND THE LOVELY POSSE / THE CUBAN BROTHERS / TOP CAT FEATURING SIR COXSONE OUTERNATIONAL / CHAIRLIFT / ICEAGE / REN HARVIEU / JOHN TALABOT / LIANNE LA HAVAS / DELILAH / FIRST AID KIT / GESAFFELSTEIN / DAUGHTER / ZULU WINTER / ANE BRUN / FRIENDS / TOTALLY ENORMOUS EXTINCT DINOSAURS / KING KHAN AND THE SHRINES / THE JAPANESE POPSTARS / CHAS & DAVE / DUB PISTOLS / FACTORY FLOOR / CHARLI XCX / ERRORS / LUCY ROSE / CONGO NATTY / KING KRULE / TOY / KINDNESS / DISMANTLE / DIRTY BEACHES / DRUMS OF DEATH /JESSE WARE / JEFFREY LEWIS & THE JUNKYARD / GENERAL LEVY / SLAGSMÅLSKLUBBEN/ JAIPUR KAWA BRASS BAND / FIELD MUSIC / JINJA SAFARI / KAWA CIRCUS / B.DOLAN'S CHURCH OF LOVE & RUIN / 02:54 / EVIAN CHRIST / FRANKIE ROSE / PORCELAIN RAFT / MILAGRES / THREE BONZOS & A PIANO / PRINCE FATTY / LIZ GREEN / TRAILER TRASH TRACYS / FOREST SWORDS / WILLIS EARL BEAL / MURKAGE / ALT-J / THE STAVES / JAKE BUGG / ALUNAGEORGE / SKINNY LISTER / JOSH KUMRA / RYAN KEEN / STAY+ / JAMIE N COMMONS / NINA NESBITT / BIGKIDS / GABRIELLE APLIN / KWES / DIAGRAMS / FICTION / TURBOWOLF /MARY EPWORTH / WET NUNS / OTHER TRIBE / PARMA VIOLETS / GORGEOUS GEORGE / MISTY'S BIG ADVENTURE / THIS IS THE KIT / STEALING SHEEP / CLOCK OPERA / YOUNG BRITISH ARTISTS / PATTERNS / GHOST OUTFIT / L.A. SALAMI / TO KILL A KING / DINGUS KHAN / CROWNS / EMILY BARKER & THE RED CLAY HALO / SUBGIANT /HEATH:WARD / LAUREL COLLECTIVE / AHAB / GECKO / MODEL SOCIETY / / TOM WILLIAMS AND THE BOAT / DAYTONA LIGHTS / VALENTINE GRAY / CHARLEY MACAULAY / SKY SPHERE / BLACKHOUSE CROW / THE LOVELY EGGS / ST SPIRIT / CHARMING / ALONESTAR / SHEPHERDS / CHERISHPORT / SEÁN MCGOWAN / A WAY OF LIFE / THIS WAY UP / THE WIDOWMAKER
DJ SETS FROM ROB DA BANK AND FRIENDS: ANNIE MAC PRESENTS / FOUR TET B2B CARIBOU / THE 2 BEARS /DAVID RODIGAN MBE PRESENTS RAM JAM / DIRTYBIRD SHOWCASE FEAT. CLAUDE VONSTROKE, JUSTIN MARTIN & EATS EVERYTHING / FRANÇOIS K / BRODINSKY /MOODYMANN / GILLES PETERSON / DJ YODA / MAYA JANE COLES / SCUBA / KAVINSKY / JULIO BASHMORE / LTJ BUKEM / JAMIE XX /SHY FX / PLASTICIAN / MATADOR / GREG WILSON / DOCTOR P / THE NEXTMEN / PEARSON SOUND / BORGORE / FLUX PAVILION / MAX COOPER / GEMINI / KRYSTAL KLEAR / PANGAEA / REGGAE ROAST / BILLY DANIEL BUNTER / PARIAH / TROLLEY SNATCHA / KRAFTY KUTS / WARM & ELECTRIC MINDS / SCRATCH PERVERTS / KOAN SOUND / CAMO & KROOKED / GILES SMITH & JAMES PRIESTLEY (SECRETSUNDAZE) / MOSCA / NUMBERS SHOWCASE: ONEMAN B2B JACKMASTER, DEADBOY, SPENCER, REDINHO / B TRAITS / GUTTERSLUT / BEN UFO / PBR STREETGANG / JAGUAR SKILLS & HIS AMAZING FRIENDS / DRUMS OF DEATH / BLAWAN / FRANK TOPE / LEO ZERO / EVIAN CHRIST / GIRL UNIT / ZOMBOY / LUV*JAM / DR ALEX PATERSON / CHRIS COCO / PETE GOODING / PHIL MISON /DUFF DISCO / DONNYJI PRESENTS BANG BHANG / MIXMASTER MORRIS / REV MILO SPEEDWAGON / GRAEME FISHER (BALEARIC) / DJ CABLE / FOAMO / DJ SHEPDOG / THE SHELLAC COLLECTIVE /FLYING WHITE DOTS / DJ CHARGE / PATHAAN / MOJO FILTER / FEAR OF THEYDON / TYTHE / SINK THE PINK / GEORGE B / KAF-TAN
PLUS:
MR MOTIVATOR
BRAINFEEDER PRESENTS THUNDERCAT, THE GASLAMP KILLER, TEEBS, LAPALUX, JEREMIAH JAE, DJ KUTMAH
CHANNEL ONE SOUNDSYSTEM