Besides them, a solid electro-package will arrive on the A38 stage, while maybe the best news is that it's less than 100 nights to sleep before the start of the 20th Sziget between 6-13 August in Budapest, Hungary.
It is all confirmed, America's most exciting contemporary rock band, The Killers will perform at Sziget, as they will be the headliners of the final festival day. Probably they are the most significant production of the entertainment industry from the Sin City of Las Vegas, even booked by US President Barack Obama for a gig at the White House. They sold over 15 million copies of their 3 unforgettable albums around the world. Currently, they are working on their fourth album, which will come out in the second half of 2012, and they will probably perform a few of those new songs at the 20th edition of Sziget Festival.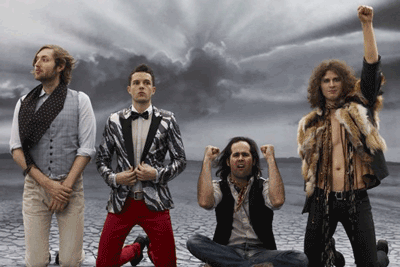 A notable electro-package is also confirmed for the festival's A38 stage, which moves to a central place and will become bigger. Not to mention a new program feature: 2 world-renown DJs will throw a party there every night. Part of the package is Borgore, the golden boy DJ and producer from Israel who at the age of just twenty-four is already well known in the international network of dubstep.
The dynamic Italian grand masters of electro and fidget, the Crookers will also get to Budapest, while the Parisian drum'n'bass and electro house squad, Dirtyphonics will be here to present their unstoppable, unbelievably energetic live act.
The genius of Dj Fresh stems from his ability to connect with the underground drum and bass fans and come out with a radio friendly pop hit in the same time – if you were not aware, discover this at Sziget. Another great name in the line-up is Dope D.O.D, a Groningen-based hip-hop formation of three MC's, Dopey Rotten, Skits Vicious and Jay Reaper, all of them with African and British origins. They play massive, crazy hardcore hip-hop music, but their sound of wicked groove and bizarre tone finds its own way in the horrorcore sub-universe.
Lincoln Barrett is a progressive drum'n'bass artist, DJ and producer, known by the name High Contrast in the scene. He will team up with MC Dynamite, one of the most popular MCs of this genre, so their joint Sziget party is something no one should miss. Tiga, the Canadian Juno award winner DJ and producer is one of the most renowned electronic musician of his country who reformed the North-American club culture in the 90's. Half of his family is Hungarian, so he knows exactly what we need for a great electro party in this country. Azari & Ill, messengers of the resurrection of 80's disco, swift electro, deep and Chicago house will also appear on Sziget this year. And the electro package wouldn't be complete without the legendary German electro duo Modeselektor, right from Berlin, the heart of the European e-music scene.
The name Kakkmaddafakka is probably the best choice to represent the swift, cocky and unique music of twelve musicians whose performances are full of energy as they entertain the audience. E-musician-producer Andy Barlow and songstress Lou Rhodes form Lamb, creating the most ambitious and attractive downtempo music of the late 90's and the early years of the millennium. Their numerous fans will be able to see them again after nine years at Sziget. Also in the line-up are The Black Seeds with their light, modern reggae music, reflecting positivity and optimism that helps to get the sweetest vibe at their shows.
The Wild Beasts are also gearing up for the festival with their slightly folk-rock influenced, sophisticated, fine and elegant guitar music, best defined as art-rock or even dream-pop – depending on the mood. And lovers of the Scandinavian metal scene will surely be happy with the crazy, energetic, yet melodic death metal played by Amon Amarth – now confirmed for Sziget.
We have new names in the Party Arena program as well, amongst them Flux Pavilion, a music-titan who made it to BBC's list of most promising bands and musicians this year. Also confirmed, British group Saint Etienne, who have been active for over twenty years without showing any signs of growing old, proving year after year that they are full of fresh and convincing ideas. This time they will fill a live slot at the Party Arena's electronic megatent.
And the list of new additions to our lineup wouldn't be complete without Anti-Flag, an ultra-provocative, uncompromising punk band form Pittsburgh, famous for their fast paced songs with unsubtle social criticism and political activity. They will be pumping up the crowd of the Main stage in the early afternoon. Similarly, the seven female and four male member of Gocoo, today's strongest taiko-collective, will entertain the crowd with their set of fourty traditional Japanese drums.