ON THE NME / RADIO 1 STAGE
Friday 24th August at Reading Festival / Saturday 25th August at Leeds Festival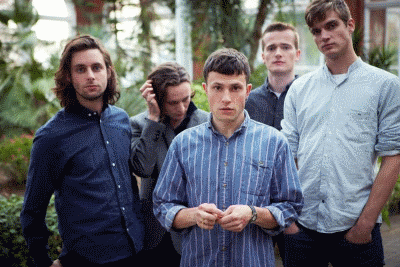 THE MACCABEES' third album 'Given To The Wild' was released earlier this year to massive critical acclaim and soared into the UK charts at Number Four. The South London five-piece are enjoying a hugely successful year so far, and with a sold out Brixton Academy under their belts The Maccabees are further cementing their status as one of the most exciting British bands of our time. We welcome them for their first headline appearance on the NME/Radio 1 Stage.
FOSTER THE PEOPLE have garnered a huge amount of critical acclaim and public adoration on both sides of the Atlantic since the release of their debut album 'Torches'. With last year's feel-good hit of the summer 'Pumped Up Kicks', word of their music spread in a manner that was shockingly quick, even in the age of endless internet churn with everyone agreeing on one thing: this was a band on the cusp of an undeniable breakthrough and Foster The People show no sign of slowing down.
Band of the people, THE COURTEENERS, head to Reading & Leeds Festival ahead of the release of their third studio album, the follow up to 2010's 'Falcon'. With the Manchester four-piece eager to road test new material, head honcho Liam Fray recently declared their new sound as "industrial Motown". An incredible live band, this could be one of the years most talked about performances.
Hot on the heels of his eighth album 'A + E', erstwhile Blur guitarist GRAHAM COXON returns to solo business with a hotly anticipated appearance on the NME / Radio 1 stage. The critics have been positively slavering over this latest outing and will undoubtedly see this appearance over-subscribed.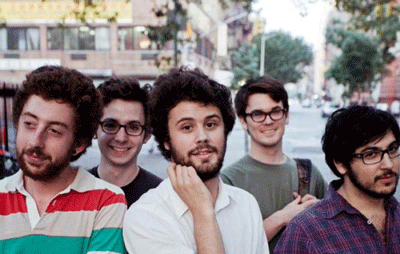 With the follow up to 2009's critically acclaimed 'Manners' under construction, we welcome PASSION PIT to this year's Reading & Leeds Festival. Hailing from Massachusetts, expect a blend of new electro dance tunes and old favourites.
Alternative rock band, THE BLACKOUT are Sean Smith, Gavin Butler, Matthew Davies, James Davies , Rhys Lewis and Gareth Lawrence. With a new album scheduled for release in August, these very special shows at Reading & Leeds will give fans a unique preview.
Always a favourite at festivals THE HIVES are sure to get things jumping with their infectious, thrilling garage rock hits. With new single 'Go Right Ahead', a sax-laden, glam-rock stomp hitting the airways now and previewing new album 'Lex Hives' due in the summer, Howlin' Pelle Almqvist, Nicholaus Arson, Chris Dangerous, Dr. Matt Destruction, and Vigilante Carlstroem will bring the sound of the summer to the NME/Radio 1 Stage.
www.thehivesbroadcastingservice.com
This year sees SPECTOR graduate from their BBC Introducing Stage debut at last year's festival with a well merited position on this year's NME/Radio 1 stage. Nominated for the BBC Sound Of 2012 the band, fronted by one Fred Macpherson, were formed in 2010 and have released a trilogy of singles through Luv Luv Luv. With a debut album slated for later in the year this East London based five-piece bring their melancholic widescreen pop to the stage at Reading & Leeds.
Following inclusion on the BBC's Sound Of Poll, Brooklyn's FRIENDS are taking 2012 by storm. Armed with one of the singles of the year, 'I'm His Girl', and the captivating follow up 'Friend Crush', expect these shows to be the talk of both sites come the August Bank Holiday weekend.
With debut album 'Breakfast' unleashed last month, CHIDDY BANG are ready to step into the limelight. You'll have heard their MGMT sampling breakthrough track 'Opposite Of Adults', and with time spent touring with Tinie Tempah, are sure to be ready to deliver one of the shows of the year.
www.chiddybang.net
Brooklyn's HERE WE GO MAGIC make their first foray to Reading & Leeds this year. The band who came to the attention of Nigel Godrich with their 2010 album 'Pigeons' have just released the fruits of those joint labours – 'A Different Ship' which had Spin Magazine saying "…this is the sort of music that would happen if Paul Simon had made 'Dark Side Of The Moon'. Yes it's that good". Get there early and see what the fuss is all about.
Saturday 25th August at Reading Festival / Sunday 26th August at Leeds Festival
Hailing from El Paso, Texas AT THE DRIVE-IN came, conquered and released three albums: 'Acrobatic Tenement', 'In/Casino/Out', the EP 'Vaya', and their ultimate swansong 'The Relationship of Command' which is now cited in dispatches as one the most important albums of its genre. Then they split. Now it looks like the many who were never able to see this incendiary live act back in the day will have their dreams fulfilled with this NME/Radio1 stage headline show. This band are name checked and revered by fellow musicians and fans alike and this, their ONLY UK FESTIVAL APPEARANCE will definitely be unmissable.
On the eve of their fifth album 'In The Belly Of The Brazen Bull' THE CRIBS make a return to the scene of one (or two) of their best ever shows. Recently reverting back to their near legendary three-piece status the band continues to evoke passion amongst their fiercely dedicated and ever growing fanbase. The Jarmans – brothers Gary, Ryan and Ross have always been fiercely independent, proud of their DIY ethos and from their early days adept at writing great songs leaving a catalogue of classic punk rock brilliance, battle scars and memories. The Cribs will once again be thrilling, spilling, entertaining and engaging.
MASTODON have never really done anything the 'conventional' way. The Atlanta-based band formulated their own brand of highly-skilled hard rock over a decade ago when others were rehashing 80's metal, and went on to mastermind a string of complex concept albums. With new album 'The Hunter' hitting the Top 10 in the US last year the band are picking up more and more fans – head-banging will be compulsory at this scorching show.
Canadian punks BILLY TALENT come to Reading & Leeds Festival with expectations for their upcoming fourth album riding high. The band, led by vocalist Ben Kowalewicz had been playing together for almost a decade before a name change lead to a record deal and their debut eponymous album was released in 2003. "A sh*t-hot, world-dominating hard-rock band has grown out of these four former Mississauga teenagers' shared high-school dreams of … well … growing into a sh*t-hot, world-dominating hard-rock band" is how they describe themselves. Check it out for yourself at the NME/Radio 1 Stage.
MIIKE SNOW are back and return with their new album 'Happy To You' later this month. The hugely talented Stockholm-based three-piece have previously dabbled in the DJ scene and in punk bands, alongside electro and new wave, which lead to writing and production stints with the likes of Madonna and Britney Spears. Now ready to step out of the studio again, these shows are a must see for all music fans.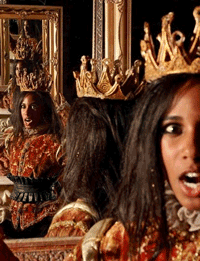 Anticipation is high for the return of SANTIGOLD and her new album 'Master of My Make-Believe' and this show will be the perfect opportunity to see this high-rising artist. Last year's collaboration 'Go' with Karen O of the Yeah, Yeah, Yeahs was described as a "brittle and brilliant brawler of a track" by the NME and 'Disparate Youth' the first track released from the new album is also picking up plaudits. Citing Aretha Franklin, Devo, James Brown and Siouxsie and the Banshees as influences, this is an eclectic and exciting singer not to be missed.
Set to tear up the festival season this summer, DRY THE RIVER are one of the most talked about artists of the year. With three years and over 250 shows already under their belts, they released their debut album 'Shallow Bed' to rave reviews last month, with NME declaring they've made an "accomplished, luxuriant, expertly crafted" record. Get down to the front early for these sets.
Glasgow's TWIN ATLANTIC follow a successful 2011 with the release of their Gil Norton produced 'Free' album. The quartet cut their collective teeth with slots supporting the likes of Gaslight Anthem, Angels And Airwaves and Taking Back Sunday and as singer Sam McTrusty says "…we're giving people something to believe in again." Catch them and believe too…
www.free.twinatlantic.com
Formed by ex. Gallows frontman Frank Carter and ex. Hope Conspiracy and Suicide File guitarist Jim Carroll, PURE LOVE's debut single 'Bury My Bones' has just been previewed on BBC Radio 1. Currently working on their debut album due later this year with producer Gil Norton (Foo Fighters, Pixies), Carter commented "Rock might not have been as popular in recent years, but that's definitely going to change because we haven't released our album yet. I want to make music that's timeless and classic."
www.therealpurelove.com
Sunday 26th August at Reading Festival / Friday 24th August at Leeds Festival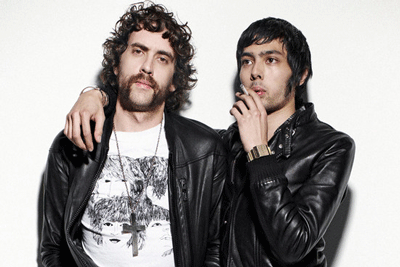 Ed Banger's JUSTICE make electronic music that everyone can rock to. With riffs now as heavy as their beats, the Grammy-nominated Parisian pair head for Reading & Leeds armed with new album 'Audio, Video, Disco'. The record has established them as an international force who are equally at home blaring from a dance club sound system or performing in an arena. Expect a powerful and mesmerising headline performance from a truly unique group.
www.facebook.com/etjusticepourtous
Since releasing their debut album 'Tourist History' in March 2010, TWO DOOR CINEMA CLUB have rapidly become one of the biggest new success stories in UK music. After selling out headline tours in the UK, US, Europe, Australia, Asia, Japan and South America, playing two successive sold out nights at Shepherds Bush Empire and selling out Brixton Academy in under four hours, the band have deservedly earned both a devoted word-of-mouth live following and huge critical acclaim. The Times have called them "the band of the moment" and NME declared that they have "quietly become one of the UK's best loved bands".
The release of THE HORRORS' third album 'Skying' saw the band's already impeccable credentials soar even higher. The record was celebrated across the board by fans new and old as their finest yet and recently won the NME 'Album of the Year' accolade. Not that their debut 'Strange House' and follow up 'Primary Colours' hadn't already cemented their reputation as one of the most original and ground breaking groups around. Both dense and expansive, insidiously poppy and stubbornly arty, The Horrors are one of the bands you must see at the festival.
SBTRKT returns to Reading & Leeds Festival after last year's triumphant DJ set on the Dance Stage at both sites and live performance on the Alternative Stage in Leeds. This time round, fans will be treated to his famous live show at both sites. His self-titled debut album propelled towards the top of DJ's playlists around the world with his combination of funk, soul, synths and bass. Fresh from releasing single 'Hold On' with Sampha, SBTRKT now has his sights firmly set on the August Bank Holiday weekend.
The legendary vocalist fronting the MARK LANEGAN BAND has sung with some of the greatest bands of the last two decades. Lanegan formed the Screaming Trees in the 80's and made some of the finest albums of the grunge scene. He's worked with the coolest names around since and his distinct baritone voice has been described as "as scratchy as a three-day beard yet as supple and pliable as moccasin leather".
Having wowed the Main Stage last year, THE JOY FORMIDABLE return at the personal request of Foo Fighters to play a very special set. Currently mixing their second album in New York with Andy Wallace, the trio made waves on both sides of the Atlantic with their debut album 'The Big Roar' in 2011, NME declaring that 'its big but it's certainly clever' and Rolling Stone thrilling to 'multi orgasmic crescendoes'. Having recently sold out New York's Terminal 5, this return to UK shores promises to be a perfect preview of the band's second album, due later in the year.
Having evolved from various outfits, Camden-based quartet TRIBES came to the fore at the start of 2011 and has seen the band accrue plenty of support both in print and on the airwaves. The band's debut album 'Baby' was unleashed earlier this year reaching Top 30 status en route, further embellishing the plaudits already bestowed upon them. If last year's appearance is anything to go by the tent will be filled to the gills for those to see on of the UK's finest live acts of recent years.
www.tribesband.com
On its release earlier this year, the self-titled debut album from DJANGO DJANGO was succinctly hailed thus: "It's a dream of the psychedelic tropics, a heady explosion of colours, an album that takes what it means to be in an indie band and gives it a good shake…" This art pop quartet first emerged back in 2009 doing things their way whilst releasing selected tracks, mainlining into the nation's psyche and producing what has been one of the year's highlights.
Young Minneapolis five-piece HOWLER marked their arrival on this side of the Atlantic last year in a barrage of hysteria. Having rapidly signed to Rough Trade Records, they consequently released the 'This One's Different' EP and supported The Vaccines on their Autumn UK tour. Earlier this year saw the arrival of their debut album 'America Give Up' with the band showing few signs of slowing up. This summer's shows mark their debut at Reading & Leeds and will see further clamoring down the front as they play their biggest shows to date.
OF MONSTERS AND MEN's debut album 'My Head Is An Animal' went to Number One on its release in Iceland from where the band hail. Describing themselves as "an amiable group of day dreamers who craft folkie pop songs" they turned into local heroes after winning a yearly battle of the bands competition. This will be one of the first chances to see this highly tipped six-piece.