Also joining the bill is London's very own SPECTOR and CLOCK OPERA. The former's hugely anthemic songs have made them one of the standout new bands of 2012 whilst Clock Opera's frenetic, bleep–ridden synth rock has made them another of the most talked about bands of this year. Other highlights include rising star of Canada's new breed of independent musicians DAN MANGAN and the warm the auditory breeze of FRANCOIS AND THE ATLAS MOUNTAINS whose debut album 'E Volo Love' is out now on Domino Records.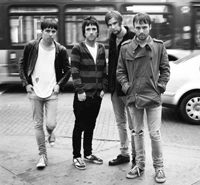 These acts and a huge smorgasbord of others will be playing alongside previously announced performers such as Death In Vegas, Alabama 3,Glasvegas, The Futureheads, Gaz Coombes, The Raincoats, Kids In Glass Houses, Actress, Lady Leshurr, Ghetts, Sway, And So I Watch You From Afar. Comedians such as Rufus Hound, Henning When, Tony Law and Abandonman will also be taking to the stage this arts and music extravaganza. In typical Camden Crawl form, a handful of surprise will be revealed shortly prior to or at the event itself.
SB.TV ROCKS ELECTRIC BALLROOM WITH HOTTEST NEW URBAN TALENT SUNDAY 6TH MAY
The Camden Crawl is proud to unveil its first ever event with the UK's most innovative and exciting broadcaster on the closing day of the 2012 festival. SBTV is at the forefront of UK youth culture with over 100 million hits on YouTube and a global reach stretching right across the Atlantic. They offer a broad range of content relevant to UK urban culture – leaving no stone unturned when it comes to showcasing the full spectrum of talent within the UK music scene and beyond. Broadcasting exclusively on the internet and, in just a few short years, SBTV has organically grown a large social-network presence, which in turn, has cemented the organisation as the leading 'Music and Lifestyle' platform in the UK.
'I am proud that SBTV is a partner of this year's Camden Crawl. We are hosting a stage at The Electric Ballroom on Sunday 6th May, giving a platform to some of the UK's hottest urban artists. I think it's great that the festival is branching out to showcase the best of the London scene, and highlighting more diverse acts'. – Jamal Edwards (founder SB.TV)
Hosted by SBTV's very own GEORGIA LA, the hot and sweaty Ballroom will feature the following hotly tipped new talents.
ASH CATCH 'EM n SCRUFIZZER n CONTEXT n YASMIN n LUNAR C n LADY LESHURR n DRIFTERn ROXXXAN n MZ BRATT n MAXSTA n MIC RIGHTEOUS
Renowned SBTV DJ MELODY KANE will also be spinning discs throughout the day which runs from 3:00 til 6:00 pm.
SPECIAL EDITIONS OF TOP CLUB NIGHTS HOST DJS & LIVE MUSIC
WELL INTO THE EARLY HOURS
Last, certainly, but not least, a diverse spectrum of cutting edge London club nights will complete each evening on an electronic high. Highlights from the 2012 club line up include:
MARY ANNE HOBBS PRESENTS Sat @ KOKO feat. South London Ordnance (DJ), D/R/U/G/S (live), Rustie (live), Thefft (DJ) MISTAJAM'S SPEAKERBOX Sat @ Jazz feat. Sway (live), Lady Leshurr (live), Cable b2b Fusion b2b BitR8 (DJ), Boy (DJ), Jacob Plant (DJ), Majestic (DJ)URBAN NERDS Sat @ The Cuban feat. Actress (live), DJs Rattus Rattus & Klose One LIFT OFF Sun @ feat Mz Bratt (live), Thadboogie (DJ), DJRD SUPA DUPA FLY Sun @ Dingwalls EDDY TEMPLE MORRIS PRESENTS Sun @ Koko feat Bobby Tank (live) Ayah Marar (live), Monsta (live), Mistabishi (live) MODA Sat @ Camden Rock feat Roska (live), Tom Starr (DJ), Jaymo & Andy George (DJ), Bxentric (DJ) BAD LIFE PRESENTS Sat @ Purple Turtle feat Attaque (live), Night Symmetry (live)