EXIT are on a roll with more acts being announced and even more still to come. First up are pop legends Duran Duran, who will kickstart the opening night of the festival performing on the main stage with original band members John Taylor, Roger Taylor, Nick Rhodes and Simon Le Bon. Showcasing songs from their most recent, critically-acclaimed album All You Need is Now, alongside iconic hits such as Girls On Film, Rio, Planet Earth, Hungry Like The Wolf, The Reflex, Notorious, Come Undone and Ordinary World. Having defined the MTV generation and taking music videos to another level with exotic locations, beautiful girls and stunning special effects, Duran Duran have sold over 80 million records, won numerous awards and continue to be at the forefront of musical innovation. For the first time at EXIT old and new fans will come together to experience the wild boys in action. See their unmissable show on Thursday 12th July. Watch the video for Girl Panic! here featuring the original supermodels – Naomi Campbell, Yasmin Le Bon, Eva Herizgova and Cindy Crawford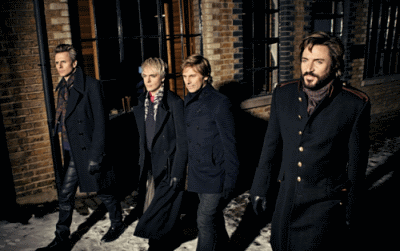 "All of us at EXIT are thrilled beyond words that Duran Duran will be playing at this year's festival. So many memorable hits to look forward to along with new material from their recent album should stamp 2012 as another defining moment for EXIT" said EXIT General Manager Bojan Boskovic.
Over on the Fusion Stage one of Scandinavia's best indie bands, Little Dragon will perform on Sunday 15th July providing the best tonic in the form of Swedish electro pop act Little Dragon. A four-piece band, headed by the astonishing vocals of Japanese-Swedish singer Yukimi Nagano. Little Dragon have released 3 studio albums – with the most recent Ritual Union (2011), earning rave reviews from critics and fans alike. Rolling Stone magazine describes the album "hits a sweet spot between the futuristic soul of their debut and the synth pop of 2009's Machine Dreams". There is no disputing the combination of Nagano's dazzling voice and collaborations with eclectic artists including Gorillaz, DJ Shadow and SBTRKT, serve to confirm the groups rising popularity and their set is not to be missed.
More underground and serving up the finest cutting edge electronica the HappyNoviSad Stage presents the R&S Records showcase, featuring Lone, Pariah, Teengirl Fantasy Live and The Chain. The British duet, Teengirl Fantasy, have achieved numerous successes in only three years with their single from the album 7AM, named Cheaters, which was was named Single of the Year by Fact Magazine, and toured with the grand Crystal Castles. Lone aka Matt Cutler has released four albums and 5 EPs in only five years with his most significant work Lemurian, released in 2008. The critics described the album as a sensual release with a distinctive identity. Matt Cutler is also active in a project named Kona Triangle. Under the moniker Pariah hides the dubstep and future garage producer Arthur Cayzer, who released his single, Detroit Falls, as well as an EP,Safehouses on R&S Records. He is also famous for remixing tracks for the The xx and Erykah Badu. Alongside his colleague, James Blake, Pariah has received praises from very influential media such as Pitchfork and Resident Advisor, and is being considered one of the most important producers of Britain's new wave of dance music, identified by many as post-dubstep. Concluding the list, we are proud to welcome another name of R&S Records' – The Chain, aka London producers Dan Foat and Nathan Boddy.
And that's not all as the Elektrana Stage welcomes the Australian act Sneaky Sound System consisting of the guitarist and producer Black Angus, and the singer Connie Mitchell. Their most recent hits From Here To Anywhere, Big, Really Want To See You Again and We Love are still renowned in Oz. During their career, the band has also collaborated with worldwide stars such as DJ Tiesto, Azari&III, KiNK and many others.
EXIT FESTIVAL UK WARM UP PARTIES
In the run up to July's festival we are partnering up with some of the UK's most notorious clubnights to bring a taste of the festival to the UK. From Liverpool to Brighton, Leeds to Southampton, and with Manchester and London in between, we'll be delivering in abundance a taste of hedonistic party mayhem you will simply not want to miss. Bringing you some of the sharpest house and techno lineups from Circus, BackToBasics and London's Regulate, keeping it bass heavy at Take The Whole Cake's Festival in Manchester and celebrating the birthdays of Southampton's Junk and Brighton's Blahblablah, this mighty calendar of events is definitely set to send you into a frenzy about the imminent fun you could be having in the hot summer sun. What you see on the Exit lineup doesn't stop there… all these UK parties will be hosting their own parties within the festival site bringing your favourite UK stomping ground to Serbian soil… Get involved!
April 21st – BackToBasics does Exit, Leeds w/ Art Department www.backtobasics.co.uk
April 28th – Circus does Exit, Liverpool w/ Magda, Butch, Yousef www.circusclub.co.uk
April 28th – Junk does Exit, 7th Birthday, Southampton w/ Seth Troxlerwww.junkdepartment.com
May 12 th – Blah Blah Blah does Exit, 5th birthday, Brighton w/ Julio Bashmorewww.weareblablahblah.com
May 26th – Regulate does Exit, London w/ Loefah, Boddika, Dark Sky, Deadboy www.facebook.com/Regulate.LDN
June 6th – Take the Whole Cake Exit launch Party, Manchester w/Foreign Beggars live, P Money, Joker, Man Like Me, Grime Orchestra, Rude Kid www.takethewholecake.com