Wychwood Festival is also delighted to announce that French sensation and BBC 6Music favourites Francois & The Atlas Mountains, punk forefathers Hawkind, Britpop trio Dodgy, stunningly talented accordionist Sharon Shannon plus champions of pop music, Oxford band Alphabet Backwards have also been added to the already burgeoning line-up. Set in the beautiful Gloucestershire countryside on Cheltenham Racecourse from 8th-10th June 20012, Wychwood is widely regarded as the UK's leading festival for families, providing an utterly delightful festival experience for all ages, featuring an eclectic mix of music from folk to world and through to pop and picking up nominations for 'Best Family Festival' at the UK Festival Awards every year since it launched in 2005. Tickets are on sale now via the Wychwood website.
---
Irish rock band The Saw Doctors will take to the stage on Sunday 10th June. Having achieved a spectacular nineteen top 30 singles in Ireland, including three number ones, and developed a reputation for their barnstorming live performances, crowds will go wild for their Irish charm.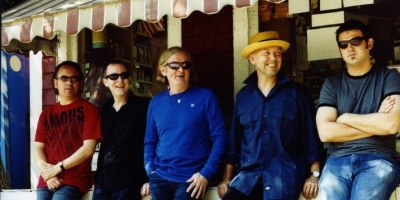 Storming onto the British scene, this year's international act of the moment, Francois & The Atlas Mountains will be performing at this year's Wychwood Festival. A multi-talented songwriter, musician, animator and artist, Francoise Marry's French roots combined with his British influences have created a swell of rhythmic piano chords, shimmering electric guitars and a blend of styles unique to any other act releasing new material at this moment. Francoise's fluctuation between French and English lyrics is both charming and hypnotic. A must see act for 2012.

Hawkind are one of the earliest space rock groups and since forming in 1969 they have been recognized as the precursor to punk rock and are considered a link between the hippie and punk cultures. Expect the bizarre with an urban and science themed set to thoroughly entertain at this year's festival.

Britpop English power pop rock trio Dodgy are welcomed to this year's Wychwood bringing classic crowd pleasers, 'Good Enough' and 'Staying Out For The Summer' that will undoubtedly create quite a stir and stick firm in the minds of revelers for years to come. Accordionist Sharon Shannon has music at her fingertips with her multi-maligned accordion playing bringing songs influenced by her Irish roots but also stretching across all musical genres including Hip-Hop, Cajan, Country, Classical and Rap. Past collaborators include Bono, The Waterboys, Sinead O'Connor plus she's entertained the likes of Bill Clinton and The Sultan in Australia and is no stranger to the stage, having become a genre-defying star with multi-platinum album sales.

Today's final announcement arrives with the champions of Pop music, Oxford band Alphabet Backwards. With their infectiously catchy tracks, their punctuated and irresistible synth buzz and a thoroughly entertaining live show, Alphabet Backwards will make you their number one fan. Already receiving airplay from 6Music's Tom Robinson, Steve Lamaq and Huw Stephens', they will delight crowds at Wychwood Festival 2012.

Wychwood Festival is shaping up to be the most exciting line-up since it's birth in 2005. With a hugely saturated festival market fans will flock to the Gloucestershire countryside to experience the best in world and folk music in an utterly delightful atmosphere enjoyed by all who choose to place it in their summer calendar. Today Wychwood announces new acts to ensure festival lovers make Wychwood their number one stop this summer.