New Order, one of the most influential British bands in the history of music, will be headlining Sónar by Night on Saturday 16 June. New Order is undoubtedly one of the key names in the history of music and one of the most influential bands of recent decades. The Manchester outfit pioneered the use and assimilation of the language of electronic dance music in a pop context after the end of Joy Division, and succeeded in creating a style all their own. Innovative and highly respected by the critics, as well as being massively successful, New Order have been responsible for an extensive catalogue of hits as timeless as "Blue Monday", "Bizarre Love Triangle", "True Faith", "The Perfect Kiss," "Regret" and "Fine Time," among many others.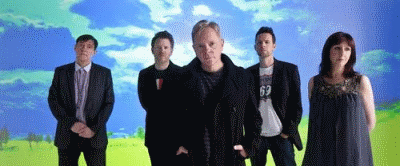 South Africa's Die Antwoord has been also added to Sonar 2012, returning to the festival after their triumphant concert last year to present the excellent new "Ten$ion". Other additions include the wisdom of James Murphy (LCD Soundsystem) on the decks on Friday the 15th at Sonar by Night; danceable electronica with a pop sensitivity from Britain's Totally Enormous Extinct Dinosaurs; The 2 Bears, the new house project by Joe Goddard (Hot Chip) and Raf Lundell; the highly respected dj Untold, a mainstay of British bass music; the session by Daniel Miller, the founder of Mute and a living legend of new wave; the up and coming Barcelona kraut-pop duo Pegasvs; and the colourful show of mirrors by the American beatmaker Daedelus.
Besides those mentioned above, the festival will also feature Cornelius presenting the band salyu x salyu, the Brazilian experimentalist Ricardo Donoso, the Canadian remixers Keys N Krates, unusual musical-scientific ideas from Japan's Masaki Batoh, the mysterious 5-piece band performing under the Mostly Robot monicker (in a show conceived by Native Instruments), and some of the most interesting outfits currently working in Spain, such as Lenticular Clouds, Lolo & Sosaku, D.Forma and Esperit!, among many others.
Red Bull Music Academy comes back to the SonarDôme stage with another stellar selection of Academy affiliates, introducing fresh new sounds from around the globe. Performers on the programme include the legend that is Dj Harvey, Chicago footwork pioneers Dj Spinn and Dj Rashad, as well as recent Academy graduates Nguzunguzu, Canblaster, Barcelona's own Nehuen, future R&B crooner Jesse Boykins III and Doc Daneeka, among many others. More artists will be announced soon.