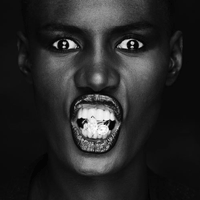 Hailed as showcasing one of the greatest ever performances from the past decade of Lovebox, the outrageous diva is back to recreate a stage masterpiece and maintain her love affair with Lovebox.
Grace Jones has been saluted as the best ever performer to take to the stage over the 10 year span of London's Lovebox. Grace, famously known for her unique and explosive style, took to the stage in 2010 where she spun out tracks from her critically acclaimed greatest hits, going down in history as one of the greatest Lovebox sets, never to be forgotten by the 20,000 that witnessed her on stage. Now, in 2012, she will go 'all out' once again and go down in London's history as she brings the biggest disco ever to a crescendo.
Commenting on her performance, Grace says: "Brace yourself!"
Along with Grace Jones, this year's headliners Hot Chip and Friendly Fires return to the Lovebox stage bringing their respective magic back to the hottest summer East London festival. What better way to celebrate a decade of love with three of the most talked-about and explosive performers who truly represent the past 10 years of the beating heart of Lovebox.
The Sunday spectacular – with Grace Jones headlining alongside already announced very special guests Lana Del Rey and Holly Johnson – welcomes the Brit and Grammy winner, multi million record sales recording artist, Mika. After a recent collaboration with Madonna, Mika will now take to the Lovebox Sunday 'This Is Circus' stage hosted by Jodie Harsh, to bring pop to life and to perform his worldwide hit 'Grace Kelly'.
Ahead of his performance, Mika says: "I've spent many amazing, lost nights at Circus and I couldn't think of a better way of taking part in Jodie's night than doing this performance."
Also joining the Sunday spectacular is legendary American DJ/Producer Felix Da Housecat, famous for his Chicago 'Electrikboy' beats; Felix will bring his distinctive flare to Vicky Park to seal an eclectic musical Sunday fest.
Across the three-day weekend, Victoria Park, East London will be shaken to its core this June with an array of sound, colour and vibes combining the old and the new for the ultimate 10 year birthday party.
Lovebox Festival will take place on June 15th, 16th and 17th June 2012.