Chase & Status, Carl Cox, Erick Morillo, John Digweed. Not only does this read like a 'who's who' of the elite electronic music fraternity, these influential names also form the backbone of our SW4 Saturday lineup. It's no wonder tickets have been flying, with Saturday sales up 40% on this time last year. But with Sunday feeling left out, we shift our focus to its headline act. So big, no one superlative does him justice. Sunday is no longer the day of rest…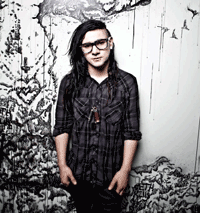 A warm Clapham welcome for Skrillex, his complex bass orientated sound set to rumble the hotly anticipated UKF Bass Culture main stage. Londoners are already familiar with his mystical melange, following two recent sell-out shows at the iconic Brixton Academy. The rousing reaction of ten thousand electronic enthusiasts meant Skrillex for SW4 became an absolute necessity. Hence making this even more mouth watering, an EXCLUSIVE London festival appearance! A real musical coup for Clapham, continuing South West Four's heritage of showcasing the most revolutionary DJs. Scheduled to close Sunday's alfresco action, Skrillex's set will be a frenetic homage to cutting edge dubstep, electro, glitch and grime.
Endorsements of Skrillex have come from the industry's toughest critics. They don't come much bigger than America's 'National Academy of Recording Arts and Sciences', purveyor's of the coveted Grammys. An inextricable link to these awards and world domination signifies Skrillex's recent Grammy hat trick as even more astounding. A haul of 'Best Remixed Recording, Non Classical,' 'Best Dance/Electronica Album' and 'Best Dance Recording,' is testament to a skill which stretches far beyond the DJ booth. Affirming an unrivalled ability to create penetrating rhythms, unrestricted by one specific genre, Skrillex's devastating industrial bass is now influencing artists on all sides of the electronic spectrum.
"If you're going to see one DJ this year, make it this one." From Stateside to domestic praise, equally as compelling from London's own Evening Standard. Also chipping in, the Financial Times! "A stupidly enjoyable experience… not since the Prodigy has dance music been so madcap." With the FT rooted far away from club land, such glowing praise earmarks Skillex as being revered by all music lovers. Especially when his immersive overlay of house, pop and R&B samples, serves to make Skrillex adored and accessible to the masses.
Techno legend Richie Hawtin keeps the appreciation coming. In February's Mixmag Richie describes Skrillex as "the man of the moment" and as having "an energy that is extreme and undeniably engaging." Sentiments shared by The Prodigy, voted this publication's 'greatest dance act of all time.' Hosting their 'Warrior Dance Festival' in Belgrade the month after SW4, the trio have handpicked none other than Skrillex as their special guest, recognising him as "the hottest act on the planet today."
Expect the obligatory heart thumping bass lines, trashing the traditional 4/4 rhythm with a mesmeric array of stutters and stops. Plus huge gut wrenching breakdowns and chaotic riffs, complete this incapacitating package. Set to pummel Clapham Common into submission, this is a performance guaranteed to go down as one of the greatest in SW4 history. You have been warned.