Tunstall shot to fame in 2005 with single 'Black Horse and the Cherry Tree' and has charted across the UK, Europe and the United States, with a nod to her chart-topping hit 'Suddenly I See' in Hollywood film 'The Devil Wears Prada'.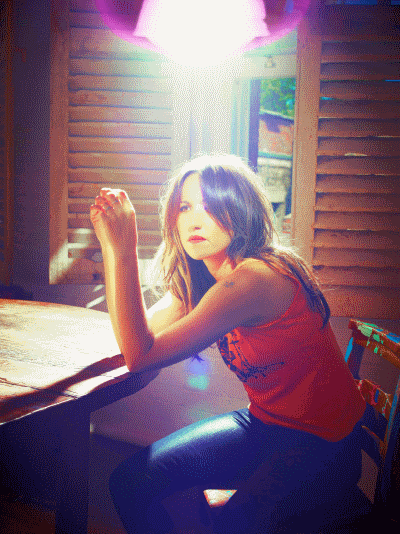 The event still has some "major surprises" down the line for its main stage line-up to stay tuned for.
In addition to KT, XFM favourites New Young Pony Club will be at LadyRock Festival 2012. The Brit band, fronted by sassy trio Tahita, Sarah and Remy, are known for their effortlessly cool look and unique and enticing post-punk approach to pop and dance music. The group's biggest hits 'Ice Cream' and 'The Bomb' are still club favourites today.
Singer and actress Heather Peace (Lip Service, Waterloo Road, London's Burning) will also be present at LadyRock Festival 2012. Heather will be the festival's official host for the day and, in addition to this, will be giving LadyRock an exclusive set on the main stage. This is a part of Peace's 2012 UK tour.
Also coming to the festival in May is the up-and-coming and acclaimed Ronika, predicted for industry domination in 2012 by countless critics, publications and music bloggers. In the midst of her UK tour and before taking the stage later in the year at Lovebox Festival, Ronika's take and twist on disco and dance music is something you won't want to miss at LadyRock 2012. She'll be the artist you're glad you found out about.
Other acts performing across the festival includes include Manchester favourites Second Hand Wings, Irena D, DJ Rivca and Taylor and The Mason, Swedish sensation the Glass Child, Brides of Comedy, Little Miss Natalie and many more.
Founder and Director Jackie Crozier said: "we could not be more proud of our line-up. Not only is LadyRock putting on an event for the girls and by the girls but – in a particularly appropriate year – we are celebrating all things British with our performers. This year is a year especially to be proud, with Euro 2012, the London Olympics and the Queen's Jubilee, who we will pay special homage to on the day – but you will have to wait to find out how. Britain, and more importantly ladies and all supporting RockerBoys – are you ready to rock?"
LadyRock Festival will take place across a number of stages and areas, with designated spots for acoustic sessions, comedy and alternative entertainment.
To purchase tickets online, and for full information on the event, please see:
www.ladyrockfestival.com
. Tickets can also be purchased by calling Quay Tickets on 0843 208 0500.