We've already got an incredibly jam-packed show of wondrous goodness in store at this year's Camp Bestival, including the mighty Hot Chip headlining Friday night and some serious Saturday Night Fever action with a triple whammy of superfunk from the Earth Wind & Fire Experience featuring Al McKay, Chic featuring Nile Rodgers and Kool & the Gang, so get yourself ready for some brilliant news, as we unveil our ace Sunday night headliners! Plus there's even more festi-holiday marvels to be had on the Jurassic coast at the end of July, including more live acts and DJs and the hugely popular East Lulworth Literary Institute which, as ever, is brimming with highbrow high jinks!
Rob da Bank says: "I'm amazed this band are coming to Camp Bestival. The Happy Mondays are one of those iconic British outfits that perfectly capture all that's best about our musical make up…indie, dance, rave, pop and Shaun Ryder's lyrical wit. I grew up dancing like a rubbish Bez to the Mondays and fully intend to indulge in some creaky freaky dancing some the Sunday night of Camp B..Hope you'll join me."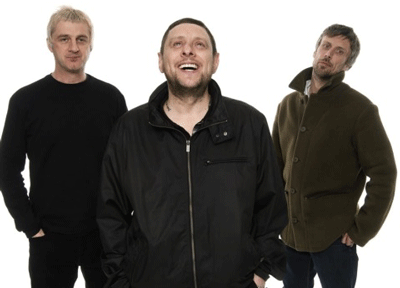 Featuring their original and definitive line-up, back together for the first time in 19 years, we are overcome with loose-limbed euphoria to be able to announce that legendary Madchester trailblazers Happy Mondays will be headlining Sunday night at Camp Bestival. So you can expect to hear classics like Step On, Kinky Afro, Hallelujah, 24 Hour Party People and more to keep you freaky dancin' to the very last in the shadow of Lulworth Castle. All we can say is yippee-ippee-ey-ey-ay-yey-yey!
The Happy Mondays' Sean Ryder said: "Me and the band are mega excited to be playing at Camp Bestival. We have heard the crowd are amazing, and we will definitely put on a great show."
Loved by the nation for their infectious smash Staying Out For The Summer and with a critically acclaimed new album endearing them to our hearts once more Dodgy will be providing the perfect summer sing-along.
There's plenty more musical action coming your way too, with rocksteady rudeboy Little Roy whose Battle for Seattle album covering classic Nirvana tracks in his own inimitable style has seen him enjoying huge critical acclaim. Plus there will be live sets from bass explorer Redlight, Wretch 32 collaborator Josh Kumra, up and coming singer songwriter Ryan Keen and LA hipster-hippie Jenny O.
Ensuring that those delicious disco vibes last across the entire weekend we've got a host of amazing DJs to announce including the irresistible and all-conquering 2 Bears, whose recent Be Strong album has been getting almost everybody everywhere pretty hot and bothered. Anyone who saw his mammoth set at camp Bestival will be overjoyed to hear that the incomparable Mr Scruff will be manning the decks for another epic session of madcap mayhem. Plus there's the extremely welcome return of reggae stalwart DJ Derek, cutting edge joy from Maya Jane Coles, blistering bassline salvos fromGemini, beat alchemy from Luv*Jam and underground action from Dave Hornby the man behind Bournemouth's renowned Shake.
We're also over the moon to be able to announce that the delightfully mischievous Dick and Dom will be making a much requested return visit to Lulworth Castle. Anyone who saw them wow the Castle stage crowds at last year's show will be in no doubt that they're in for an absolute treat of riotous fun and we can't wait to see them again.
We've been swotting hard to bring you an A* programme for our East Lulworth Literary Institute. Nestled at the bottom of the Kids Field, this is an oasis of grown-up calm, where you can while away the hours indulging in a vast array of mind treats!
We've got our first selection of candidates for our exclusive 'How To' series, where much loved folk share inspirational musings on hot topics. We are honoured to be joined by the truly inspirational Camila Batmanghelidgh, who is the founder of the Kids Company charity and a veritable spokesperson for the care and wellbeing of young people. Camila will be interviewed on How to Change Lives. And what's more, previously mentioned daft double act Dick and Dom will be taking the hot seat to share their wealth of silly experience in How to Dick and Dom About.
Scroobius Pip is shaking things up this year in his Satin Lizard Lounge spoken word line up. He's confirmed guest hosting sets from two of London's best spoken word nights in the form of Chris Redmond (Tongue Fu) and Joshua Idehen(Poejazzi)! Pip, Chris and Josh will be presenting the likes of John Berkavitch, Jodi Ann Bickley, John Osborne, Alex Gynther and John Sinclair who will be sharing the finest selection of their latest word craft.
As always, we are also going to be graced with the presence of more than a few hot authors reading from their latest books! Channel 4 favourites the Fabulous Baker Brothers; musician turned author Joe Stretch; Radio 1 agony uncle Matt Whyman; Richard Milward, laureate of teen sex, drugs and rock'n'roll; Ben Crystal, actor and Shakespeare demystifier; Little Nye creator Lerryn Korda; fantasy favourite David Gatward, and book reviewer Stuart Evers. Phew!
And there's even more to come! So keep an eye out to find out who else will be interviewed in our 'How To' sessions, even more authors, as well as news on our RSA debates, the Tate and some other surprises…
And don't forget there's 100s of free things for kids to do, comedy, art, glorious food galore and fun around every corner, so make sure you check www.campbestival.net and our Facebook and Twitter for all the up to the minute news about our fifth Camp Bestival!