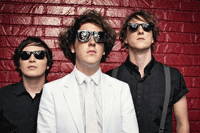 The Wombats
The Pigeon Detectives
The Subways
Summer Camp
Juan Zelada
Masters In France
Jim Lockey & the Solemn Sun
Boat To Row
Son Of Eagle
The theme so far is indie, rock, alternative, folk with elements of electronica. We will be in touch to let you know what the other kinds of music will be on offer.

About Y Not:
The Y Not Festival is a small, intimate three-day music festival held in the heart of the Peak District countryside in August. It is moving into its seventh year now.
Y Not is a showcase for all that is fresh and exciting in global music. From emerging talent and breaking bands to established acts, if you want to catch a band on the cusp of success this is your chance. Many of the acts across the weekend will be camping right there with everyone else, giving the whole weekend a sense of intimacy hard to find anywhere else.
www.ynotfestivals.com