Tickets on general sale Friday 17th February at 9am from:
www.ticketmaster.co.uk/sw4 / 0844 847 2467
"It's great to be headlining a festival in our home town, London. SW4 always has a killer line up and a great atmosphere and I'm sure it'll be one of the highlights of our summer." Will Kennard (Chase & Status)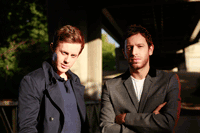 For the first time in our nine year history, the Clapham carnage will cease at 10pm. That's an extra hour to indulge in the scintillating sights and sounds of the UK's premier inner city music event. So with an extra sixty minutes to play with, this year's line-up will be our biggest ever, showcasing an array of prime international artists on a scale never before experienced at SW4. Inspirational talent synonymous with South West Four's success, are joined by a host of DJ debuts and manic live acts. Furthermore with improved sound levels, a freeze on 2011 ticket prices and numerous other enhancements, SW4 2012 will bring to the English summer an even greater festival experience.
For Saturday's coveted headline slot we're privileged to welcome the world's most exciting live electronic act, the enigmatic Chase & Status. For this emotional homecoming, expect an intense immersive ethos incorporating raging riffs andhigh octane breakdowns. This frenetic formula earned their acclaimed album 'No More Idols' double platinum status and a 'Best British Group' nomination at The Brit Awards 2012.
Their baffling, on-the-fly manipulation of dirty, ferocious beats, has also attracted a devoted global fan base, who live and breathe that tumultuous bass driven sound. It's no wonder, Mixmag nominated Chase & Status for their 'Greatest Dance Act Of All Time.' But let's cut to the chase! With a status as one of the most innovative producers of their generation, this homecoming is preceded by a host of monumental global gigs.
Before shaking Clapham to the core, Chase & Status will headline Miami's 'Ultra Music Festival' and Australia's flagship 'Future Music Festival.' The ten thousand mile distance symbolic of their present standing. Iconic postcode SW4 falls nicely in the centre, a subliminal message maybe as this will be the focal point for Chase & Status' shining summer activities. A must attend gig for fans of the band and electronic music lovers alike, we look forward to welcoming you all to SW4 2012.