The first six to be announced are; MOBO award winner Alborosie, ska-punk supremo's Reel Big Fish, legendary Jamaican Godfathers of ska The Skatalites, Jamaica's number one female reggae artist Tanya Stephens, the indo-dub basslines of Asian Dub Foundation and the gypsy-punk global fusions of Balkan Beat Box. With a bounty of other heavy hitting, bass bashing, rock-n-romping acts firmly secured on the bill for Boomtown 2012, this is just the tip of the iceberg of what will be the maddest fair in the land!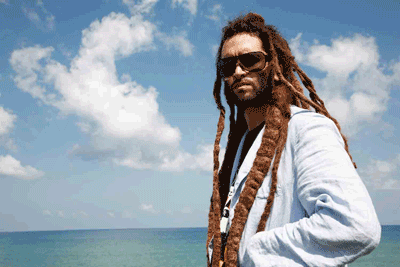 With Alborosie topping the first of Boomtown's line-up announcements, this is a sign of very good things to come! Knocking Damian Marley and Nas out of the running for the Best Reggae Act at the 2011 MOBO awards, Alborosie continues to go from strength to strength. First hitting the music scene back in the early 90's with his band The Reggae National Tickets, this Sicilian born Rastafarian has won over critics and fans alike throughout his career, both as a band and later as a solo artist. His ascent to fame came with his debut album Soul Pirate which hosted some of his top hits including the mighty 'Kingston Town' and 'Kingdom of Zion'. Revellers will need to strap-in as Alborosie's set will be amplified by Boomtown's legendary soundsystem where the bass will be ballistic and the lyrics lethal!
With their big hitting tunes 'Sell Out' and 'I want your girlfriend to be my girlfriend'; Reel Big Fish were the heavy weights of the Ska-punk revival in the mid to late 90's. Known for their hyperkinetic stage shows, mischievous humour and reworking of new-wave classics, Reel Big Fish won over underground and mainstream audiences on both sides of the Atlantic and beyond. Boomtown is the perfect pond for Reel Big Fish, and the town centre has more than enough gusto to stage these larger than life showmen!
'The Skatalites' is a name that needs no introduction for ska and reggae fans. More than a band, The Skatalites were and are an institution, a collection of world class musicians who didn't just define the sound of Jamaica, they were the sound of Jamaica across the '50s and '60s. Reforming in the mid 80's they have been touring and recording ever since. Favourites on the UK festival circuit, these stalwarts of Jamaican Ska are true professionals and put on an awe-inspiring show and spread sunshine at every gig.
Reggae songstress Tanya Stephens is one of the most popular female recording artists to come out of Jamaica in recent years. Bursting onto the dancehall scene with an arresting sound, she quickly proved she could more than handle herself within this predominantly male vocation. Over the years she's grown into her position and delivered some of the most topical, insightful lyrics in reggae. With 'It's a Pity' Tanya achieved international recognition as a leading reggae / dancehall artist. Boomtown cannot wait to get winding and grinding with this crowd-pleasing goddess of gutsy lyricism!
Asian Dub Foundation are all set to bring their unique blend of rapcore, dub, dancehall and raga with a hefty punk influence to the streets of Boomtown. Often hailed as the 90's version of the Clash or Sex Pistols, ADF have always pioneered their political ideals through a heavy bassline and pounding drum. Also set to headline Boomtown 2012 is the whirling boundary-less sounds of Balkan Beat Box. This trio put a modern twist on Mediterranean folk music combing horns, reggae vocals and hip hop drums into one almightily energetic mix up of genre spanning funk!
In addition to these top names, there are loads more big hitting and underground gems booked for so far for Boomtown, please see below for a breakdown of all acts booked via genres…
SKA, SWING, PUNK, ROCKABILY – explosion in the Town Centre and Devil Kicks dancehall stages:
Reel Big Fish / The Skatalites / Asian Dub Foundation / Balkan Beatbox / The Slackers / Movits / Dunkelbunt Babyhead / Urban Voodoo Machine / The Meteors / Batmobile / Mad Sin / Molotov Jukebox / The Filiments
RAGGA, DUB, DANCEHALL – on the UK's biggest reggae stage:
Alborsie / Tanya Stephens / Gappy Ranks /Jah Shaka / David Rodigan / Zion Train / Makka B / Trojan Sound System / South Rakkas Crew / Blak Twang / Mungos Hifi /Channel One / The Heatwave / General Levy / Lady Chan / Soom T
SERIOUS RAVE AND BASS HEAVY MUSIC – Arcadia and Bassline Circus:
Kill the Noise / Caspa / Stanton Warriors / DJ Hype, Breakage / 16 Bit / Benny Page / Marcus Visionary / Roska / The Nextmen / Plump DJ's / Krafty Kuts / Racknruin / Foamo / Far Too Loud / Engine Earz / Dub Phizix / Tomb Crew / Freestylers / Dub Mafia / Slamboree
Keep your ear to the ground for the next huge line up announcement for the Arcadia and Bassline Circus to come next week…
BoomTown 2012 is over the weekend of 9 – 12th August, for more info or to buy tickets please visit: www.BoomTownfair.co.uk