This will be the third time that Five Finger Death Punch have featured at the event, having made main-stage appearances in 2009 and 2010; For Reckless Love, meanwhile, this will be outing number two, following on from their Download debut in 2010.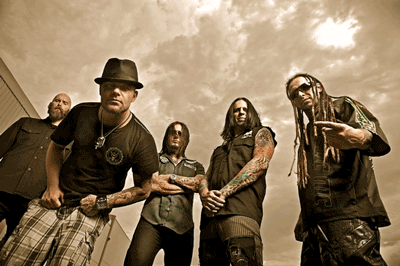 5FDP NOW stand as one of America's most high profile rock acts, with their first two albums now certified Gold in their home country, and latest release, 'American Capitalist', well on the way to following suit (300,000 units and rising fast!)
The band have a new single/video released through the Spinefarm label on February 20th; titled 'Remember Everything' and drawn from the 'American Capitalist' album, the song is already a big hit at US radio, following on from the incredible out-of-the-box success of previous single, 'Under And Over It' – the video for which has now clocked up over 3 million hits on YouTube!
March 20th will also see the release of the new single/video from Reckless Love; titled 'On The Radio' and taken from the band's second studio album, 'Animal Attraction', out now, the single features the previously unreleasedbonus track, 'Push'.
Reckless Love will headline The Garage in London on February 2nd (an HMV 'Next Big Thing' Event in conjunction with Spinefarm Records), and the following month they head out on tour with much-touted US rockers Black Veil Brides, starting in Wolverhampton on March 24th.