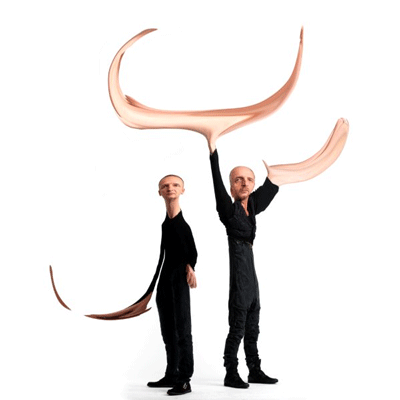 With some rather handsome Bestival announcements on the horizon, the mighty Rob da Bank and the Bestival crew are so excited that we just can't contain ourselves! So, with that in mind, we're going to 'leak' a few choice nuggets of loveliness for your delectation with12 new things for Bestival 2012 including our untamed fancy dress theme and a tantalising touch of live news.
Rob da Bank says: "I've never been pestered so much on Twitter and even in clubs and on the street about who's playing Bestival this year so we thought we'd better start the proceedings. Legendary brothers of rave Paul and Phil Hartnoll aka Orbital are the first act who have self-announced themselves today…and what a classic to kick off on. As ever the theme of Bestival is a hotly debated topic – this year its Wildlife – so maybe you're thinking foxes, badgers or flamingos or go a bit more lateral and think of wild men and women, hedonists and crazy people? It's an open book as ever. More news very soon!"
So, without further ado, here's what's brand new this year!
1) The theme for Bestival 2012 is Wildlife…We want you to unleash the party beast from the hinterlands of your imagination, covering Robin Hill with some properly wild things, from fantastic fauna, kings of the jungle and even organisms aplenty to just the outrageously wild… The sky is far from the limit of what can happen when you get amongst the wildlife….And we will also be launching our very own Insect Museum and Animal Tug of War.
2) Barter for Bestival – can't afford a ticket? Then barter yourself to us for a few hours to help with an IOW charity legacy project in exchange for a free Bestival ticket! 50 people from far and wide will get the opportunity to help create a community allotment space working with Natural Enterprise. Applications will open on 20th February when full details are announced so watch this space.?
3) Film is coming to Bestival in 2012 – new for 2012 are the Lost Picture Show – a vintage cinema to take you back to the golden age of movie going, plus Rob da Bank will be rescoring the 1930s original of King Kong at the brand new Amphitheatre performance space in the Woods with more film collaborations to be announced soon.
4) Soul Park – our new and expanded Healing Area will feature unique spaces for yoga, massage, relaxation, hammocks and meditation with the David Lynch Foundation plus wood-burning Scandinavian hot tubs and a sauna area. Perfectly calm for when you just need to relax a little and refresh to get your positive energy recharged.?
5) Arcadia Mechanical Cabaret – not content with having invented the crazy mechanical spider that spits flames and has scared the living pants off us at the last few Bestis, Arcadia have now trawled the world for brand new structures and insane fire art to wow us with, much of it from Burning Man.
6) Young British Foodies – We've got the country's finest young chefs, street food vendors, bakers and mixologists all under one roof! Winners of the nationwide search for the most talented Young British Foodies will be joined by the YBF all-star foodie judges to create a never-been-done-before, spectacular eating experience.
7) The Bollywood Bar is having a complete Josie da Bank makeover – with an old London bus being transformed into a Bollywood chill out bar in full Indian colours and the inside getting a cinematic Bollywood lick of paint.
8) Grand Palace of Entertainment – roll up roll up, we've cranked up the fun factor with this new venue! Expect twisted cabaret, raucous games and quizzes, dancing-lycra-clad-bearded trannies and multicolored, glitter strewn, late night parties. ?
9) More camping space – yes we may not be expanding on capacity onsite cos we know we're the right size but we will be creating much more space for you… check out this aerial picture showing you all the new land we've taken.
10) Create a bloco for the Bestival Carnival – Your chance to unite with other festi-goers and get creative! We are inviting you to form your own bloco and be part of ourcarnival parade on Saturday afternoon. From fabulous costumes, to drumming,dancing and giant puppets, we can't wait to see what delights you come up with! Details of how to enter coming soon.
11) Cycle To Bestival – emulate mighty Mark Cavendish with a truly Olympic effort to ride almost 100miles from Central London to Bestival…and raise cash for charity. More details will be available at the end of the month but you can get in training now if sounds like fun to you… on yer bike Bestivalites. ?
12) Rob da Bank's Music Club – Are you a rock star in the making? Head to Rob da Bank's Music Club to find out! This project, set up in partnership with the Isle of Wight Youth Trust, is coming to Robin Hill to offer up a brilliant selection music and arts workshops.

As well as all the brand spanking fresh stuff there's going to be a healthy dose of unbridled joy on the dancefloor too, as Bestival are overjoyed to declare that dance music legends Orbital will be crossing the Solent to join us for an epicurean adventure, or as we used to call it a proper rave up, headlining the Big Top on Sunday night! Renowned for their festival annihilating brilliance and a dashing line in torch specs, the brothers Hartnoll are true pioneers of dance music and with a brand new album, 'Wonky' currently getting the critics all giddy, you can expect nothing less than a legendary set!
With many more acts to announce for Bestival 2012 and to build just a touch of anticipation for our headline announcements, Rob da Bank will be taking to his trusty Twitter announcing an act a day until mid-February when we'll be announcing some headliner news. Until then, make sure you check the Twitter feed for news on some of the many acts that will be gracing Bestival 2012 with their presence.
BESTIVAL TICKET INFORMATION:
www.ticketline.co.uk/bestival-tickets / 0844 888 4410
Early Bird Adult Ticket With Entry From Thursday 6th September – £170
Early Bird Adult Ticket With Entry From Friday 7th September – £165

Teen Ticket (age 13-17) With Entry From Thursday 6th September- £110
Teen Ticket (age 13-17) With Entry From Friday 7th September- £105
Age 12 and Under Weekend Ticket – FREE (but you must obtain a ticket)
Early Bird Campervan Tickets: £65 (per vehicle)
Early Bird Tickets will also be available to buy through our payment plan which lets you pay a sixth of the total ticket cost (plus booking fees) now, with a further five equal payments spread across the following five consecutive months.
Tickets and coach travel packages also available via Big Green Coach: www.biggreencoach.co.uk/bestival