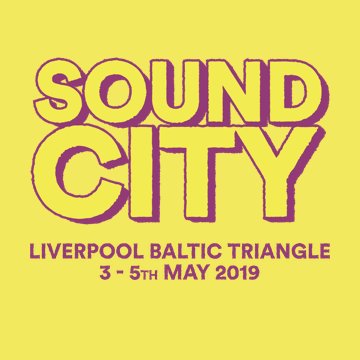 Sound City
Taking place across the Baltic Triangle and Cains Brewery, the festival is very much returning to its roots, focused on discovering an abundance of emerging new talent for everyone to savour whilst experiencing many iconic artists in intimate spaces.
2021 Lineup
As the UK festival world begins to kick into gear, Sound City continues its preparations for an emphatic festival return this October – sitting not only as the definitive home of new music discovery in 2021 but also the celebrated return of the festival to its inner-city roots in the heart of Liverpool.

Returning to the streets that originally played host to Sound City over 13 years ago, the festival's gold-standard reputation as the first place to catch some of the most exciting and thrilling new sounds continues – with 2021's festival return primed to be a glorious melting pot of cross-genre delights!

After huge demand from fans, it finds the show nestled squarely in the heart of live music once again – celebrating the venues and people that make the live music community what it is. The perfect location to jump between different artists while catching a moment for a drink and a bite to eat in one of the greatest cities in the world – it ensures Sound City 2021 is not one to be missed out on. 
Latest announcement:
A-Z

ALVVA / Anna Ho / Ask Elliot / Bad Bistro / Bad Nerves / Branwell Black
CATE / Celine Love / Cheekbone / China Bears
Chloe Davies & Isaac Cousins
Delights / Deyah / Dune Boy / Enjoyable Listens / Eyesore & The Jinx
Family Jools / Fuzz Lightyear / HAIG / Harry Miller / James Wood
Jaws The Shark / Jekyll / Jessica Winter / Jim Tsarouchis / Lily Denning
Mamatung / Mollie Coddled / Molly Strefford-Ridehalgh
Moses / Navos / Pacific
Parliamo / Pearl Fish / Pier James / Polarized Eyes / Regent / Seth Oraeki
Sub Blue / Sweethearts / Tamara Salmon / The Dunts / The Institutes
The Letrasets / The Motive / The Sound Of Modesty / Waterfront / Yusuf Yellow

Announced Previously

Beabadoobee / Rejjie Snow / Red Rum Club / Jamie Webster

A-Z
Abbie Ozard / Alice Pisano / Alright (Okay) / Baby Queen / Bandit / Beaux
Blondes / Brooke Combe / Bull / Callum Easter / Captain Boy / Cariss Auburn
Carla Prata / Ceryss Eless / Cobain Jones / Connor Fyfe / Conrad / Crawlers
Daddy / Deco / Dolly Demi / Dylan / Eleni Drake / Frankie Bettlestone
Gaff / Garden Party / Geiste / George Cosby / Georgia Meek / Gracey
Hannah Jacobson / Hello Delaware / Holly Macve / Isabel Neib / Jamie Pollock
Jamie Webster / Jaws The Shark / Jodie Nicholson / Joeys / JOHN / Josh Kane
Kay Young / King No-One / L'Nee Golay / L'objectif / Lanterns On The Lake
Lapsley / Lewis Ross Robson / Lizzie Ross / Louis Croft
Luka State / Luke La Volpe / Lydiah / Mantah / Mason Owens / Miraa May
Miss Tati / Moa Moa / Molly Burman / Molly Green / Molly Payton 
Monks / Morell / Navos / Navvy / Nayana Iz / Nikita & The Waves / NOISY
Not3s / Nuha Ruby Ra / Panic Shack / Patawawa
Phoebe AXA / Pixey / Podge / Polar States / Police Car Collective
Pretty Sick / Rianne Downey / Rosehip Teahouse / Sad Boys Club
Shambolics / Social Contract / SPQR / Stanleys / Tamzene 
That's Juvey / The Clockworks / The Deep Blue
The Heavy North / The KTNA / The Lathums / The Lottery Winners
The Murder Capital / The Mysterines / The New Coast / The Royston Club
The Snuts / The Sway / The Vegan Leather / Tom Joshua / Tom Rogan
Tomike / Truuces / Victors / Voodoos / Weezy Jefferson
Wyldest / Youth Sector / Zoe Graham
+ More To Be Announced