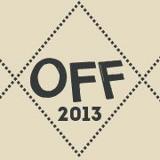 Off Festival
OFF Festival is an alternative music festival series held annually since 2006. Until 2009 it was held at Słupna Park in Mysłowice, Poland in August and lasts four days. OFF Festival from 2010 takes place in Katowice in Dolina Trzech Stawow.
2022 Lineup Details
TBC
2019 Lineup Details
With a name like the OFF Festival, we know we've got a high bar to clear. So we're pleased to announce the first batch of artists heading our way next year. They'll charm you, shock you and enthrall you with their uncanny and unpopular music. Please welcome Daughters, The Gaslamp Killer, Perfect Son, Boogarins, Lebanon Hanover, and Bamba Pana
& Makaveli.
Suede
In chronological terms, Suede is a Britpop band, and it's often lumped in with that genre, but the group's ambitions and potential have always far exceeded the average capabilities of that mass mobilization. A more apt comparison would be to the work of David Bowie. Suede is nearly as versatile and boasts one of the most charismatic frontmen of our times, Brett Anderson. If songs like "Beautiful Ones," "Trash" and "So Young" weren't part of your soundtrack to the 90s, then it probably means you were too young. But Suede isn't coming to the OFF Festival as part of some sentimental blast from the past. After all, their recent LP, The Blue Hour, full of breathtaking, wonderful songs recorded with producer Alan Moulder (My Bloody Valentine, U2, Ride, and more), was one of the best albums of last year. Or maybe even the best.
Trio Jazzowe Marcina Maseckiego
Marcin Masecki has performed at the OFF Festival several times—with Paristetris, Profesjonalizm, Warszawska Orkiestra Rozrywkowa, and alongside Jacek Sienkiewicz—so we'll spare you the list of adjectives. You know all how "phenomenal" and "versatile" he is. There's no other pianist like him—and we don't just mean in Poland. Marcin returns this year as the leader of a jazz trio that also features bassist Piotr Domagalski and drummer Jerzy Rogiewicz. What makes this project so interesting is that the avant-garde Masecki has long shied away from jazz—a great musical tradition that he's finally ready to face up to. The set will feature tracks from the soundtrack of Paweł Pawlikowski's Cold War.
Superorganism
Their first hit was titled "Everybody Wants to Be Famous"—achievement unlocked. That's one challenge Superorganism can check off their list. This indie-pop sensation invaded last year's festival lineups and released their debut LP on Domino. With musicians hailing from the U.K., Japan, Australia and New Zealand, the merry eight-piece ensemble is one of the most international and colorful projects on the scene today, and the band's music is equally eclectic and original. If their day at the OFF Festival is a rainy one (not to jinx it!), head on over to the Superorganism show: it's always sunny where they're playing.
The Body
No One Deserves Happiness is the title of the shocking yet beautiful 2016 album from The Body, and also a phrase that aptly describes the atmosphere of their music. It's completely devoid of light, happiness and breath; it's a kingdom of despair. The Body's discography has since accumulated a few new releases, some of which are collaborations with other bands (they've put out albums with Full of Hell, Uniform, Thou and Krieg, among others). If there's one thing you need to know about The Body, it's this: there's no realm too extreme for Chip King and Lee Buford to venture into, and there's no experiment that the duo wouldn't dare try. The Body inhabits the fringes of the metal scene, but it's hard to find the right category to describe the group's music—unless "terrifyingly good" is a genre.
OM
Think quasi-religious raptures, plodding, meditative tempos, and a psychedelic sound, but underpinned by a somber, doom-metal drive. The Californian trio OM is tough to pigeonhole or place in any specific music scene, but the supergroup's lineup tells you a lot about their potential. Their frontman is singer/bassist Al Cisneros, who also heads up stoner/doom legends Sleep, joined by Emil Amos (of the cult act Holy Sons) on drums and Tyler Trotter (Phantom Family Halo, Watter) on keyboards. Get ready for a hypnotizing ritual.
IC3PEAK
The world learned of IC3PEAK last year, when the band's tour became the target of a crackdown by the FSB and other Russian state agencies. Shows were canceled or faced last-minute relocations to other—often informal—venues, while concert promoters received threats, and the band members themselves were arrested. Unfazed by these efforts, Nastya and Nick continued performing to equally fearless—and increasingly large—audiences. What makes IC3PEAK noteworthy, however, isn't just their musical dissident status in Russia, but also their art, which combines dark witchhouse sounds with underground hip-hop and the melancholy melodies of the East. The two have described their music as audiovisual terror, and not without good reason: this isn't just something you listen to (like their excellent new album Сказка), it's also something you watch. In fact, their brilliant, controversial videos are what drew the ire of the Russian authorities in the first place.
slowthai
A comment under one of his YouTube videos says everything you need to know about this artist: "Nobody has lyrics that capture Britain's lower class anxiety like slowthai. Dude is a low-key messiah." No wonder that when slowthai burst onto the scene, he drew comparisons to Sleaford Mods, The Streets and the early years of grime. But the first band are old men with problems of their own, no one's heard from The Streets in a while now, and grime has become a cash cow for the music industry. That's why Tyron Frampton, a.k.a. slowthai, is the premiere rap voice of the British streets. And he does not have good news for you…
Durand Jones & The Indications
Do the likes of Marvin Gaye and Gil Scott Heron have worthy successors today? It's a tough challenge and a high bar to clear, but one possible candidate is Durand Jones, who sings straight from the heart. Jones started out performing gospel in Louisiana, before moving on to the University of Indiana, where he assembled a few exquisitely sharp-eared musicians to form the Indications. Their debut album was hailed as the greatest hope of American soul, while their forthcoming album American Love Call, slated for releases in March, only upholds the title. "Move and groove" is Jones' motto, and by the looks of it, everything's on the right track.
Jakuzi
Fantezi Müzik, Jakuzi's 2016 debut album (actually a re-release on City Slang a year later), introduced the world to the thriving Turkish underground scene. The band's style combines catchy, sweeping choruses with post-punk angst, but with an individual, characteristic flavor that's unique to Jakuzi. The upcoming album Hata Payı, scheduled for release in April, is said to follow that theme into the darkness. We can't wait to find out what that means.
Emerald
You've seen and heard her at the OFF Festival before. Emerald Rose Lewis joined M.I.A. on stage last year as a DJ and hype woman. Her mixes are well know to audiences of Rinse FM, i.e. anyone who tries to stay abreast of the latest news from the London club scene. Emerald's specialties include 2-step, UK Funk, house and garage.
As well as:
Aldous Harding, Neneh Cherry, Daughters, The Gaslamp Killer, Electric Wizard, The Comet Is Coming, Perfect Son, Phum Viphurit, Black Midi, Boogarins and Lebanon Hanover, as well as Bamba Pana & Makaveli, Loyle Carner, Lotic: Endless Power and SAMA'.