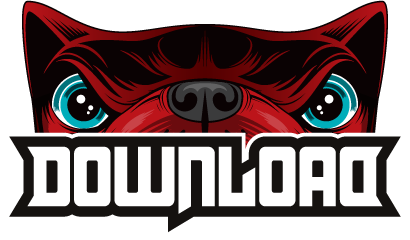 Download Festival
Donington Park, one of the world's foremost race circuits, plays host to one of the largest and most popular rock and metal festivals in the UK. Download Festival kicked off in 2003 and continues to bring the biggest rock and metal acts from across the world together. Iron Maiden, Linkin Park, Metallica, Black Sabbath, Tool, Slipknot, AC/DC and more have graced the stages in previous years.
2022 Lineup
Friday 10 June 2022
KISS, A Day To Remember, AA Williams, Airbourne, Ayron Jones, Black Veil Brides, Blues Pills, Bokassa, British Lion, Bury Tomorrow, Cellar Door, Dead Poets Society, Electric Wizard, Gender Roles, JJ Wilde, Lacuna Coil, Meet Me @ The Altar, Moon Crow, MYLES KENNEDY & Company, Normandie, Press Club, Sleep Token, Tempt, The Distillers, The Ghost Inside, The Scratch, Theory, Wayward Son.
 
Saturday 11 June 2022
Iron Maiden, Black Label Society, Blackout Problems, Bleed From Within, Bush, Cassyette, Code Orange, Creeper, Daughtry, Dead Label, Death Blooms, Deftones, Dragged Under, Dying Fetus, Funeral For A Friend, Grandson, Higher Power, Holding Absence, Ice Nine Kills, Joyous Wolf, Loathe, Malevolence, Mastodon, Megadeth, Monster Truck, Obituary, Salem, Sepultura, Shinedown, Temples On Mars, The Faim, The Pretty Reckless, The Raven Age, Those Damn Crows, Venom Prison.
 
Sunday 12 June
Biffy Clyro, Alestorm, Anchor Lane, As Everything Unfolds, Boston Manor, Cemetary Son, Dead Posey, Fire From The Gods, Gloryhammer, Jamie Lenman, Kill The Lights, Korn, Marianas Trench, Modern Error, Myles Kennedy, Phoxjaw, Powerwolf, Rise Against, Spiritbox, Static Dress, Steel Panther The Darkness Skillet Baroness Of Mice & Men Wednesday 13 Massive Wagons The Last Internationale Control The Storm, The Descendants, The Hara, The Injester, THICK, Trash Boat, Twin Temple, Volbeat, Wargasm.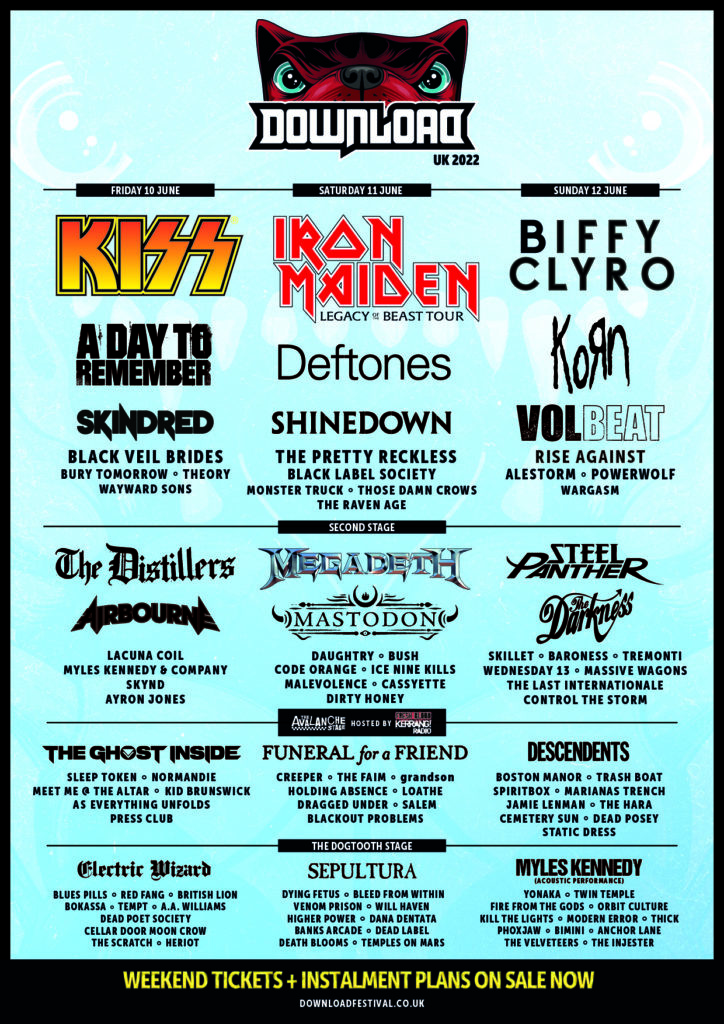 2021 Lineup
Headliners: KISS, BIFFY CLYRO & SYSTEM OF A DOWN
A.A. Williams
A Day To Remember
Airbourne
Alestorm
Anchor Lane
Baroness
Blackout Problems
Black Veil Brides
Bleed From Within
Blues Pills
Bokassa
Bush
Cellar Door Moon Crow
Cemetery Sun
Control The Storm
Creeper
Daughtry
Dead Label
Dead Posey
Deftones
Dirty Honey
Dying Fetus
Electric Wizard
Employed To Serve
Frank Carter & The Rattlesnakes
Funeral For A Friend
Gender Roles
Gojira
Haken
Hatari
Higher Power
Holding Absence
Hot Milk
Killswitch Engage
Kill The Lights
KORN
Jamie Lenman
JJ Wilde
Joyous Wolf
Lacuna Coil
Loathe
Lotus Eater
Marianas Trench
Mastodon
Modern Error
Myles Kennedy & Company
Obituary
Of Mice & Men
Phoxjaw
P.O.D.
Poppy
Powerwolf
Press Club
Rise Against
Sepultura
Skillet
Sleep Token
Spiritbox
Steel Panther
Stone Broken
Temples On Mars
Tempt
Theory
The Darkness
The Distillers
The Faim
The Hara
The Pretty Reckless
The Wildhearts
Those Damn Crows
Tiny Moving Parts
Twin Temple
Volbeat
Wage War
Wargasm
Wayward Sons
Will Haven