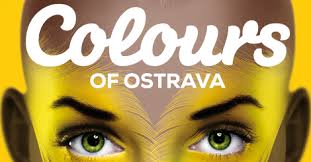 Colours of Ostrava Festival
Spread over two dozen unique outdoor and indoor stages, Colours of Ostrava offers an unrivalled selection of contemporary and classic performers, from electro to world music, jazz, indie rock, and reggae.
Festival-goers can look forward to over 350 events ranging from bands, DJs, films, open discussions, workshops, theatre, poetry, art installations and programmes for kids.
The diversity of the programme is one among many festival's assets: the event is held on the site of the city's former mines and ironworks, a European Cultural Heritage Site – a place unlike any other. Despite its industrial feel, the festival site boasts plenty of green space plus a range of quieter and shaded spaces ideal for lounging and recharging batteries. In terms of accommodation, easy options range from camping in the picturesque surroundings of the Ostrava Silesian Castle to higher-end accommodation options at Ostrava city centre hotels and flats. Transport is an easy matter too, Ostrava being easily accessible by train and car from airports in Prague and Krakow, the festival site then reachable by tram within the city centre.
Colours of Ostrava was founded in 2002 and ranked as one of the Top 10 music festivals in Europe in 2016 by The Guardian. In 2017, the festival was shortlisted for the European Festival Award in the category Best Major Festival. Colours of Ostrava also organises the free Festival v ulicích (Street Festival) in the centre of Ostrava, the Czech Music Crossroads, a music showcase conference, and, since 2015, the international Meltingpot discussion forum: a large-scale event spreading the ideas of outstanding international speakers, being part of Colours of Ostrava Festival.
2020 Lineup Details
The Killers, Twenty One Pilots, Martin Garrix, The Lumineers, LP, Youssou N´Dour, Sigrid, Wardruna, Tindersticks, Tones and I, Meute, Meduza, Black Pumas, Dubioza Kolektiv, Sleaford Mods, Fatoumata Diawara, Hiromi, Larkin Poe, Marina Satti & Fónes, Bakermat, Hudson Taylor, Health, Moon Duo, Joel Culpepper, Dona Onete, Chef`Special, Sons Of The East, Radical Face, KOKOKO!, The Hatters, Muthoni Drummer Queen, Ivan & The Parazol, Fofoulah and Bazzookas