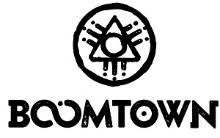 Boomtown
2022 Lineup Details
TBC
2019 Lineup Details
Boomtown, one of the UKs largest independent music and theatre festival, is delighted to announce the launch of its new techno and electronic district – AREA 404.
A distinctively industrial, post-apocalyptic and expansive district, AREA 404 will be dedicated to the raw sounds within the electronic music spectrum and has invited Drumcode and Bugged Out to host the stage for Friday and Sunday, respectively, with confirmed headliners including techno legends Carl Cox, Four Tet and Amelie Lens.
But this is by no means it. With two new street venues Acid Leak and Fallout Disco waiting to be announced, and the return of SP23 (Spiral Tribe) Street Rave with the best and boldest underground sound system, there's so much more to come…..
AREA 404 is the latest progressive to arise from the deeply original and idiosyncratic vision of Boomtown's creators, and added to 14 distinctly themed areas, hosting 27 main stages and 80 smaller street venues. The latest edition to the Fair is poised to instil excitement and eagerness within the electronic music community.
2018 Lineup details
Boomtown Fair has released the first act to headline the tenth Chapter of the musically diverse and theatrically led festival and are welcoming the most 'successful virtual band in the world' the Gorillaz, in a one-off, UK exclusive 2018 performance, at the 60,000 capacity festival taking place over 9th – 12th August 2018 at the Matterley Estate in Hampshire
Gorillaz  / Die Antwoord  /  Limp Bizkit / Ben Harper & The Innocent Criminals  /  Jimmy Cliff  / Amadou & Mariam / Sleaford Mods  / Enter Shikari / The Skatalites / Morcheeba / Goldie & The Heritage Ensemble / Soul II Soul / Spice / Shy Fx Presents: Cult.ure  / Groundation  / Billy Bragg /  Maribou State / Omar Souleyman  / Dubioza Kolektiv /  Fishbone /  Nadine Shah / The Selecter / Bilal / Jah Wobble & The Invaders Of The Heart  / Fantastic Negrito  /  The Herbaliser / Stereo MC's / Too Many Zooz /   Romare (full Live Band) /  Zara McFarlane  /  Sampa The Great / Daara J Family /  Kitty, Daisy & Lewis / Deluxe / L'Entourloop Ft Troy Berkley & N'Zeng / My Baby / Rising Appalachia / Lankum / Mammal Hands / Molotov Jukebox / Dub Pistols  / Dutty Moonshine Big Band / Alsarah & The Nubatones / Meute / Baba Zula / Slamboree / Gordie Mackeeman & His Rhythm Boys / Captain Ska  / Nubiyan Twist / Alfa Mist / Blue Lab Beats / Elvana /  Mathias Duplessy & The Violins Of The World / Johnny Osbourne  |  Lt. Stitchie, Papa Levi & Ras Demo / Spragga Benz & Friends / Havana Meets Kingston / Jungle Warriors Aka Kenny Ken B2b Potential Badboy B2b Remarc & Ragga Twins / Skarra Mucci / Etana / Jungle Cakes Takeover: Ed Solo B2b Deekline B2b Serial Killaz B2b Benny Page / The Skints / Macka.B  / Chopstick Dubplate Feat. Demolition Man & Horseman / The Nextmen Vs GDC / New Kingston  / Earthkry  / Samory I / Napalm Death |  Soulfly / Capdown  / Idles / Ho99o9  / Earth Crisis / Voodoo Glow Skulls  /  Random Hand /  Adolescents / Jaya The Cat / The Rumjacks / Inner Terrestrials / Hacktivist / Turbowolf / Moscow Death Brigade / Samsara Blues Experiment / Haggard Cat /  [spunge] / Shpongle ( Simon Posford, Raja Ram, Michele Adamson) Live / Bliss / Freedom Fighters / Avalon / Skazi / Phaxe / GMS / Chrome Angels / Dino Psaras / Hypnocoustics / Earthling / Sinerider / Bugged Out (,, Purple Disco Machine,, Idris Elba, B.Traits, Lemmy Ashton) / Edible (Eats Everything, Paul Woolford, Jesse Perez, Lord Leopard, Cousn) /  Sulta Selects /  Charlotte De Witte / Enrico Sangiuliano / Extrawelt / Redlight  | / Crucast Takeover / Chris Lorenzo/  Night Bass Showcase |  Dj Zinc B2b Special Request |  Plastician  |  Clap! Clap! / Ghetts | Nadia Rose | Lady Leshurr | Teklife Showcase | Foreign Beggars / Kojey Radical / Lowkey, Chali 2na & Krafty Kuts / Levelz  |  Children Of Zeus  |  Rocks Foe / Big Zuu / 808ink / Hospitality  / Clipz  / Critical Sound / 20 Yrs Of Virus Records (Ed Rush & Optical) / Eatbrain / 25 Yrs Of V Recordings / Dj Marky /  LTJ Bukem / Dimension  / Breakage /  Dillinja / Maztek / Lenny Dee Vs The Dj Producer / Deathchant Records Showcase / The Outside Agency / Vandal Vs Billx / Stay Up Forever Takeover /  Le Bask / Radium