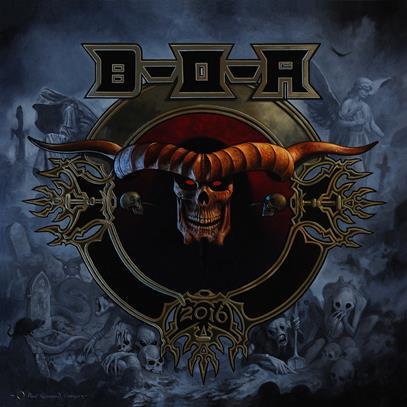 Bloodstock
One of the worlds premier Rock and Metal festivals, Bloodstock attracts some of the worlds biggest artists to its stages in Catton Hall.
2022 Lineup Details
BLOODSTOCK's 2022 Ronnie James Dio main stage headliners are BEHEMOTH, LAMB OF GOD, and MERCYFUL FATE. Also appearing across the weekend are KILLING JOKE, DIMMU BORGIR, TESTAMENT, EXODUS, AVATAR, ALL HAIL THE YETI, BLACK DAHLIA MURDER, GWAR (in a UK festival exclusive), BURY TOMORROW, SACRED REICH, LIFE OF AGONY, SPIRITWORLD, BELPHEGOR, BUTCHER BABIES, VIO-LENCE, BLOODYWOOD, JINJER, LORNA SHORE, DOYLE, LOST SOCIETY, HATEBREED, SLEEP TOKEN, DARK FUNERAL, EYEHATEGOD, DISCHARGE, STATIC-X, THE NIGHT FLIGHT ORCHESTRA, ENFORCED, PARTY CANNON, SOEN, HERIOT, BLOOD YOUTH, BLACK TONGUE, HEART OF A COWARD, FEROCIOUS DOG, HEATHEN, NEKROGOBLIKON, CATTLE DECAPITATION, ORBIT CULTURE, TALLAH, SAMAEL, CYHRA, NOCTEM, NANOWAR OF STEEL, THROWN INTO EXILE, PUPIL SLICER, CAGE FIGHT, VENDED, ILL NINO, SKARLETT RIOT, DESERT STORM, SORCERER, RED METHOD, and BAEST as well as many more yet to come. Stay tuned for additional 2022 announcements in due course.
2021 Lineup Details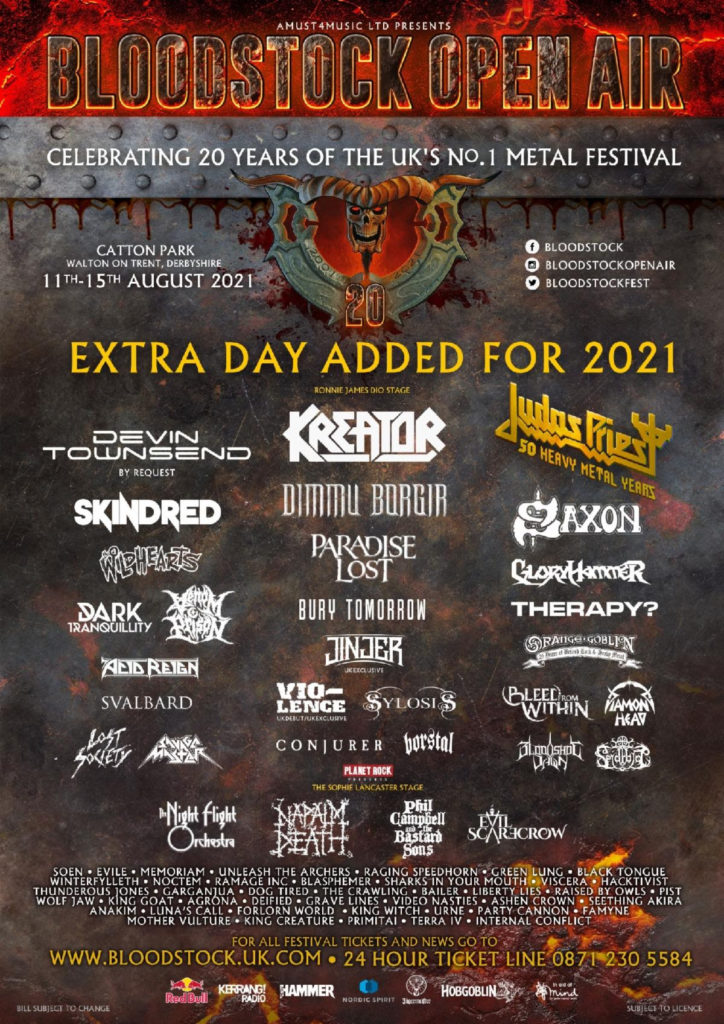 BLOODSTOCK's 2021 main stage headliners are DEVIN TOWNSEND (Friday), KREATOR (Saturday), and JUDAS PRIEST (Sunday). The festival will also feature sets from SKINDRED, PARADISE LOST, DIMMU BORGIR, BURY TOMORROW, DIAMOND HEAD, THERAPY?, VENOM PRISON, NAPALM DEATH, JINJER, VIO-LENCE, SAXON, THE WILDHEARTS, GLORYHAMMER, DARK TRANQUILLITY, BLEED FROM WITHIN, PHIL CAMPBELL & THE BASTARD SONS, MEMORIAM, RAMAGE INC., GREEN LUNG, CONJURER, ORANGE GOBLIN, THE NIGHT FLIGHT ORCHESTRA, RAGING SPEEDHORN, UNLEASH THE ARCHERS, SYLOSIS, WINTERFYLLETH, HACKTIVIST, THE CRAWLING, RAISED BY OWLS, ACID REIGN, SVALBARD, SOEN, BLASPHEMER, PIST, SHARKS IN YOUR MOUTH, SEIDRBLOT, NOCTEM, MOTHER VULTURE, BLOODSHOT DAWN, & EVILE and many more. Many more bands performing across the long weekend are still to be announced.