This event will be DEF LEPPARD's first concert in France for almost seventeen years (The band's previous live appearance in this country dated from October 20th 1996 in Paris)!!!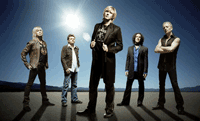 With more than 100 million albums sold worldwide and two prestigious Diamond Awards (Def Leppard are one of only five rock bands to have two consecutive 10 million plus selling albums in the U.S. The others are The Beatles, Led Zeppelin, Pink Floyd and Van Halen.) to their credit, Def Leppard – Joe Elliott (vocals), Phil Collen (guitar), Rick "Sav" Savage (bass), Vivian Campbell (guitar) and Rick Allen (drums)— continue to be one of the most important forces in rock music. Over the course of their career, the band has produced a series of classic groundbreaking albums that set the bar for generations of music fans and artists alike. The group's spectacular live shows, filled with powerful melodic rock anthems, continue to sell out venues worldwide.
HELLFEST are pleased to announce a further 72 acts to their already stellar line up across 6 stages over 3 days from June 21st-23rd 2013 in Clisson, France.
British luminaries WHITESNAKE make an excellent addition to Friday's mainstage line up, and the British invasion continues with the addition of ASKING ALEXANDRIA who recently sold out their entire UK tour including London's prestigious Brixton Academy.
Legendary Swedish rock outfit EUROPE will also join the main stage line up on Friday and following their comeback album 'Carved Into Stone' in 2012, 90's thrash metallers PRONG make a welcome addition to Sundays line up.
To mark their 25th anniversary DANZIG will also appear as part of the main stage line up and he'll be bringing special guest & former Misfits band mate Doyle Wolfgang von Frankenstein. This will be the first time ever that Danzig and Doyle will have performed together live on European soil. Joining the punk parade will also be UK veterans THE TOY DOLLS & BUZZCOCKS showing us that they can still whip up a storm after over 30 years in the business.
Following the release of their third studio album 'Band Of Brothers' last year, hard rock super group HELLYEAH return to the mainland to lay to waste their brutal concoction of foot stomping, fist pumping rock and roll.
Swedish hype machine GHOST and American thrashers BLACK BREATH both whipped up a storm in 2012 and Hellfest are proud to add them to their ever growing line up of exciting acts.
Further acts announced for the line up are

7 WEEKS – A DAY TO REMEMBER – AGNOSTIC FRONT -ATTENTAT ROCK –AUDREY HORNE – BANE – BELPHEGOR – BERRI TXARRAK – BLACK COBRA– BLACK PYRAMID – BURY YOUR DEAD – CASUALTIES – COCKNEY REJECTS – CULT OF LUNA – DEEZ NUTS – DR LIVING DEAD – ERYN NON DAE – FINNTROLL –GALLOWS – GRAVEYARD – HEATHEN – HELL MILITIA – HIGH ON FIRE – HYPOCRISY – JUSTINE – KISSIN DYNAMITE – KOLDBRANN – KROKUS – LE BAL DES ENRAGES – LORDI – MANILLA ROAD – MASTER OF REALITY –MISANTHROPE – MISERY INDEX – MONSTROSITY – MOONSPELL – MORBID ANGEL – NOFX – PALLBEARER – PIG DESTROYER – P.O.D – PROCESSION –RETOX – RIVERSIDE – SETH – SIX FEET UNDER – SLEEP – STILLE VOLK – SURTR– SWANS – SYMPHONY X – T.A.N.K. – THE ARRS– THE DECLINE – THE GREAT OLD ONES – THE OLD DEAD TREE – THE SECRET– TREPONEM PAL – VEKTOR – VERA CRUZ – VOIVOD – WALTARI
The two outdoor platforms, Mainstage 1 and Mainstage 2 sit side by side on the festival site and will host a total of 17 bands per day. Alongside the mainstages there is the magnificent double stage tent which houses 'The Altar' and 'The Temple'. Both have their specialties with 'The Altar' showcasing predominantly Death Metal and Grindcore, and 'The Temple' featuring Black and Pagan Metal. Between them will present 18 acts per day.
The fifth stage holds the title "The Valley" and will play host to a collection of Stoner, Doom, Sludge, Psychedelic and other Alternative Metal acts. Last but not least, the sixth and final stage 'The Warzone' will be dedicated to Punk, Hardcore, Electro and Industrial Metal.
If the excellent array of acts Hellfest have already announced was not enough for you, at the entrance of the campsite you can find the Metal Corner, where festivities begin from Thursday 20th June at 5pm and will continue late into the evening of each of the festivals days.