FATBOY SLIM, the legend, is to be this summer's irresistible temptation for all real fans of electronic sound who expect more from a festival, with an amazing 2 hour main stage show that will set the scene for another all night ELEVATION® DJ party. He managed to put Bulgaria on his busy touring schedule only to fulfill the expectations of thousands of local fans who have been anticipating his second visit for almost two years now.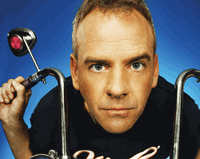 In the weeks to come, next to FATBOY SLIM's name we'll add an impressive selection of global artists coming for the festival weekend on 23rd & 24th June 2012, for starters the festival hits: KOSHEEN, the British Trip Hop, Breakbeat and Rock Trio and CHAMBAO, the Spanish Flamenco Chillout Group have joined the line-up. Both bands will present their new albums at the festival!
The 4 times winner of "Grammy" prize Erykah Badu and young Nigerian Nneka will appear on the Bulgarian scene for the first time and the world-famous drum &bass performer DJ Roni Size will make happy the fans of the heavier sound.
Erykah Badu or as she is often called "The queen of Neo-Soul" will sing for her Bulgarian fans, songs from her new album "Amerykah Part Two"(Return of the Ankh) which was pronounced to be one of the most expected topics even before its release in 2010.
Honest, straight, with messy hair and no make-up NNEKA comes to Bulgaria to present her brand new third studio album "Soul is Heavy" which is a bold and yet balanced combination of hip-hop, reggae, brass, African pop where the subjects of love, pain, politics and God meet.
The legend of drum & bass Roni Size will be part of the non-stop party at the DJ stage.
Tickets for the ELEVATION® 2012 can be found exclusively at Eventim.
There are 1500 promotional tickets at the price of 66lv. and they are running out fast. After all of them being sold out the price of the regular tickets will be 99lv.